The Hand Fan as a Ceremonial and Religious Object in Japan
Keywords:
hand fan, Japanese religions, symbolism of hand fans, museum collections, ceremonial and religious object
Abstract
Far from being mere cooling devices, in Japan, hand fans play an important role in social life, customs and artistic development. Related to various aspects of Japanese culture, they can be employed as dance props, tools for transmitting messages or telegraphing wealth and social status, a canvas for artistic expression, and an object associated with ceremonial and religious purposes. The use of hand fans in religious and ritual practice is historically well established. The fan was held in the hand or placed in front of oneself during prayers to the gods; it would serve either as a symbolic manifestation of divinity or merely as a tool for praying to the gods; it was also used as a gift on ceremonial and special occasions, such as weddings, funerals, and tea ceremonies. To facilitate the understanding of the role of hand fan in Japanese society, and the religious sphere in particular, the paper provides insight into the historical development of this device, presenting its various types and forms and their usages in ceremonial and religious events. In an investigation of Slovenian museum collections of artefacts of Asian provenance, several hand fans were found that likely resemble those used for ceremonial purposes and in religious life in Japan. They are presented and analysed herein ‒ their constructions, forms, dimensions and styles studied and classified based on the relevant literature ‒ and compared to the hand fans used in Japanese religious rituals.
References
Armstrong, Nancy. A Collector's History of Fans. New York: Clarkson N. Potter, Inc., 1974.
Armstrong, Nancy. Fans. A Collector's Guide. London: Souvenir Press (1984) 1990.
Asai, Susan M. Nōmai Dance Drama. A Surviving Spirit of Medieval Japan. Westport and London: Greenwood Press, 1999.
Auboyer, Jeannine. »Ceremonial Objects.« Encyclopædia Britannica. 9. december, 2015. Dostop 29. julij, 2022. https://www.britannica.com/topic/ceremonial-object.
Ahskenazi, Michael. Handbook of Japanese Mythology. Santa Barbara, Denver, Oxford: ABC Clio, 2003.
Bocking, Brian A. Popular Dictionary of Shinto. Surrey: Routledge, 1997.
Breen, John, in Mark Teeuwen. A New History of Shinto. West Sussex: Wiley-Blackwell, 2010.
Chiba, Reiko. Seven Lucky Gods of Japan. Tokio: Charles E. Tuttle Company, 1966.
Cultural Heritage Online. »Nachi no matsuri 那智の扇祭り.« Dostop 28. december, 2022. https://bunka.nii.ac.jp/heritages/detail/210224.
Cunningham, Don. Samurai Weapons: Tools of The Warrior. Vermont: Tuttle Publishing, 2008.
Davis, Frederick Handland. Myths and Legends of Japan. New York: Dover Publications, Inc. (1992) 2017.
Dean, Michel. »The Japanese Fan: Practical Implement and Cultural Icon.« V From the Land of the Fan, uredil Harley Preston, 4–7. London: The Fan Museum, 2001.
Finnegan, Kathryn. Hand Fans. An Illustrated History. London: Amazon, 2015.
Grey Bennet, Anna. Unfolding Beauty. The Art of the Fan. Boston: Thames and Hudson, 1988.
Hutt, Julia, in Hélène Alexander. Ō̄gi: A History of the Japanese Fan. London: Dauphin Pub, 1992.
Inochi ni jiai o 'uchiwa maki' - Tōshōdaiji 命に慈愛を「うちわまき」- 唐招提寺. Nara Shibun Digital. 12. maj 2022. https://www.nara-np.co.jp/news/20220520213538.html.
Iröns, Neville John. Fans of Imperial Japan. Hongkong: Kaiserreich Kunst, 1981.
Karlin, Alma M. Samotno potovanje. Ljubljana: Mladinska knjiga, 1969.
Kashima, Mayu 鹿島繭. »Heian Jidai ni okeru hiōgi ni tsuite 平安時代における檜扇について.« Tsukuba Daigaku geijitsu kenkyūshi 筑波大学芸術学研究誌 10 (1993): 23–44. http://hdl.handle.net/2241/00153170.
Kawashima, Sonoko 川嶋園子. »Ōgi: Ōgibunka no seiritsu to seisanchi to Kyotō 扇 : 扇文化の成立と生産地としての京都.« Dezain Riron デザイン理論 38 (1990): 90–91. https://ir.library.osaka-u.ac.jp/repo/ouka/all/53298/jjsd38_090.pdf.
Mabuchi, Akiko 馬渕明子. Butai no ue no japonisumu ― enji rareta gensō no 舞台の上のジャポニスム―演じられた幻想の. Tokio: NHK Books, 2017.
Nakamura, Kiyoe 中村清兄. Ōgi to ōgie (Nihon no bi to kyōyō 23). 扇と扇絵 (日本の美と教養 (23). Tokio: Kawara shoten, 1983.
Ortolani, Benito. The Japanese Theatre: From Shamanistic Ritual to Contemporary Pluralism. Princeton, New Jersey: Princeton University Press, 1990.
Ōgi matsuri 扇祭. 15. julij, 2017. https://ja.wikipedia.org/wiki/%E6%89%87%E7%A5%AD.
»Ōgi to Bukkyo tono kankei«. Sensu ha Bukyo ni yotte donoyōni hatten shittekitaka? 「扇と仏教との関係」‐扇は仏教によってどのように発展してきたか. https://www.sougiya.biz/kiji_detail.php?cid=1072.
Senmen Hokekkyōsshi 扇面法華経冊子. https://emuseum.nich.go.jp/detail?langId=&content_base_id=100142&content_part_id=000&content_pict_id=000.
Shintani Takanori 新谷尚弼, Namihira Emiko 波平恵美子, Yukawa Yōji 湯川洋司. Kurashi no naka no minzokugaku 1 暮らしの中の民俗学1. Tokio: Yoshikawa Kōbunkan, 2003.
Thomsen, Hans Bjarne. Japanische Holzschnitte / Japanese Woodblock Prints: aus der Sammlung Ernst Grosse. Petersberg: Michael Imhof Verlag, 2018.
Trnovec, Barbara. Kolumbova hči. Življenje in delo Alme M. Karlin. Celje: Pokrajinski muzej Celje, 2015.
Tribe, Shawn. »The Flabellum of Tournus – A Rare Surviving Example of the Liturgical Fan in the West.« Liturgical Arts Journal, 2. avgust 2022. Dostop 26. septembra 2022. https://www.liturgicalartsjournal.com/2022/08/the-flabellum-of-tournus-rare-surviving.html.
Visočnik Gerželj, Nataša. »Dancing with the Fan: The Role and Value of a Japanese Fan and Kimonos in the Transmission of Japanese Culture by Marija Tsuneko Skušek.« Asian Studies 9, št. 3 (2021): 199–221. https://doi.org/10.4312/as.2021.9.3.199-221.
Vampelj Suhadolnik, Nataša. »Zbirateljska kultura in vzhodnoazijske zbirke v Sloveniji.« V Procesi in odnosi v Vzhodni Aziji: zbornik EARL, uredili Andrej Bekeš, Jana Rošker in Zlatko Šabič, 93–137. Ljubljana: Znanstvena založba Filozofske fakultete Univerze v Ljubljani, 2019. https://doi.org/10.4312/9789610602699.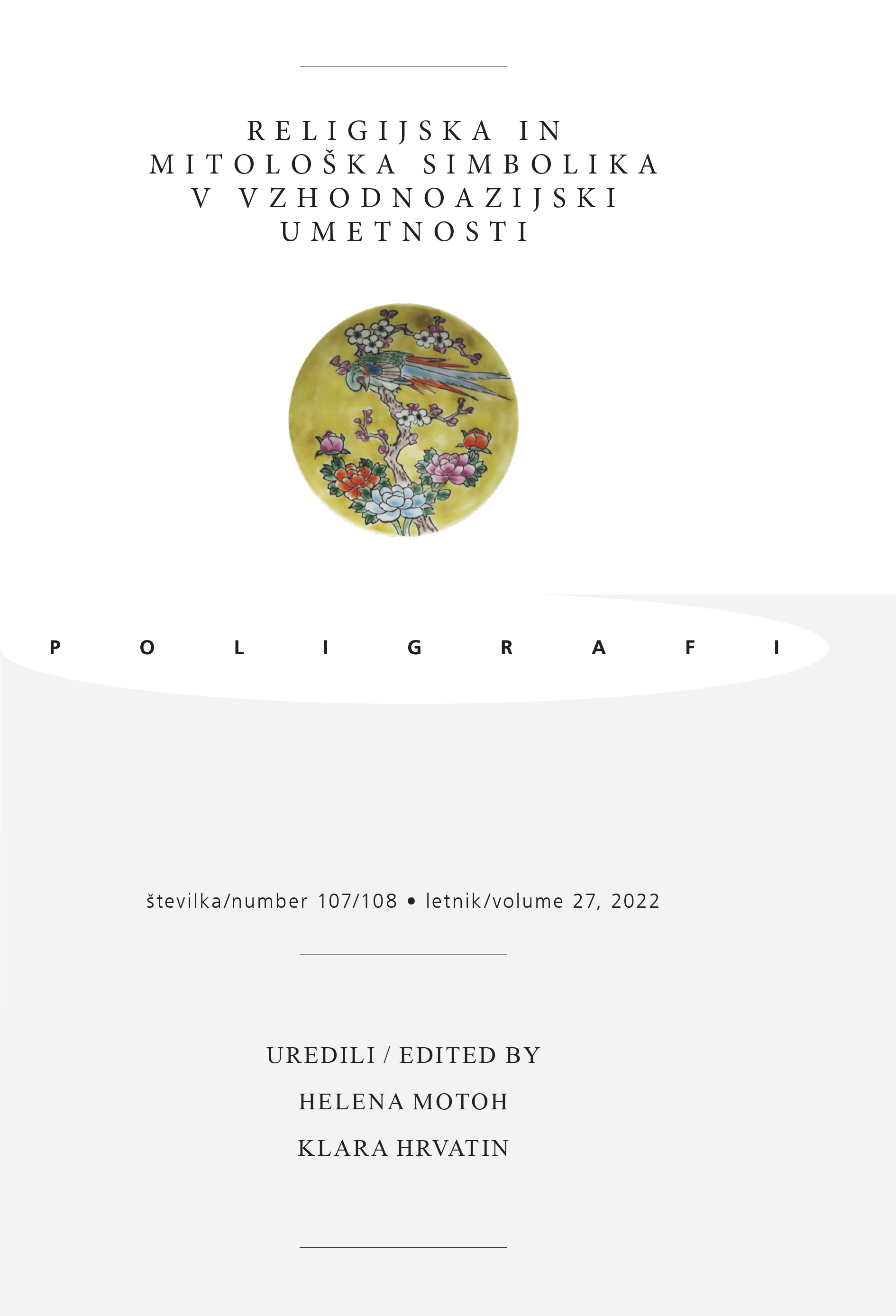 Downloads
How to Cite
Visočnik Gerželj, Nataša. 2022. "The Hand Fan As a Ceremonial and Religious Object in Japan". Poligrafi 27 (107/108):171-94. https://doi.org/10.35469/poligrafi.2022.352.