Caught Between the Notions of Ethnicity, Citizenship and Diaspora
The Case of the Bosniaks in Turkey
Keywords:
Bosniak, Turkey, identity, diaspora, citizenship, ethnicity
Abstract
Along with many others, Bosniaks are an ethnic group within the contemporary Turkish nation with immigrant roots dating back to the last quarter of the 19th century. Constituting a significant ethno-demographic part of the Ottoman legacy within the modern Turkish nation, Bosniaks in Turkey have long refrained from identifying themselves with a separate ethnic or cultural identity when confronted with the assimilationist cultural policies of the new nation state. But, while adapting themselves to Turkish culture and identity, Bosniaks have also preserved a collective identity of Bosniakness, mostly owing to the fact that their population in Turkey has been fed by continuous migration waves in different periods. The aim of this study is to analyze the problematic development of a Bosniak identity in Turkey with regards to the cultural assimilation processes and continuous migration waves and other factors on both foreign and domestic scales. Based on the findings of the study, it can be concluded that Bosniaks in Turkey do not yet constitute a Bosniak diaspora, but rather they can be regarded as a diaspora in the making.
References
Aksoy, Ömer. "Türkiye'de Balkanlara Artan Akademik İlginin Bir Sonucu Olarak Boşnak Dili ve Edebiyatı Programı." Erzurum Teknik Üniversitesi Sosyal Bilimler Enstitüsü Dergisi 3, no. 5 (April 2018): 145–153.
Aslan, Sanem. "Citizen, Speak Turkish!: A Nation in the Making." Nationalism and Ethnic Politics 13, no. 2 (April 2007): 245–272. https://doi.org/10.1080/13537110701293500.
Babuna, Aydın. Bir Ulusun Doğuşu: Geçmişten Günümüze Boşnaklar. Istanbul: Tarih Vakfı Yurt Yayınları, 2000.
Baklacıoğlu, Nurcan Özgür. "Between Neo-Ottomanist Kin Policy in the Balkans and Transnational Kin Economics in the EU." Journal on Ethnopolitics and Minority Issues in Europe 14, no. 3 (2015): 47–72. https://www.ecmi.de/fileadmin/downloads/publications/JEMIE/2015/Ozgur.pdf.
"Bosniak." Joshua Project. Accessed December 14, 2018. https://joshuaproject.net/people_groups/10953.
Boşnak Dünyası. "Sancak Günü Türkiye'de İlk Kez Kutlandı." December 6, 2019. http://bosnakdunyasi.com/aralik2018/#p=7.
Çoban, Mahmut. Güzel Zamanlar Güzel Insanlar. Istanbul: self publication, 2013.
Çokbankır, Ercan. Arnavutlar, Boşnaklar, Pomaklar: Balkan Türklerinin Kökleri. Izmir: Etki Yayınları, 2008.
Demir, Yalçın Köksal. "Cemaatten Ulusa Boşnaklar." Karadeniz Teknik Üniversitesi Sosyal Bilimler Dergisi 2 (July 2011): 71–88. http://acikerisim.ktu.edu.tr/jspui/handle/123456789/123.
Demirel, Muammer. "Türkiye'de Bosna Göçmenleri." Atatürk Üniversitesi Sosyal Bilimler Enstitüsü Dergisi 12, no. 2 (July 2008): 285–306.
Emgili, Fahriye. Yeniden Kurulan Hayatlar: Boşnakların Türkiye'ye Göçleri (1878–1934). Istanbul: Bilge Kültür Sanat, 2010.
Gündüz, Tufan. Alahimanet Bosna: Boşnakların Osmanlı Topraklarına Göçü (1879–1912). Istanbul: Yeditepe Yayınevi, 2012.
Hamziç, Zeynep Işıl. "Marmara Bölgesi'ne Göç Eden Balkan Göçmenlerinin Yerleşim Yerleri." January 5, 2015, https://www.bosnakmedya.com/marmara-bolgesine-goc-eden-balkan-gocmenlerinin-yerlesim-yerleri/.
Hamziç, Zeynep Işıl. "Halilbeyli ve İstanbul'daki Okullarda Boşnakça ve Arnavutça Seçmeli Dersler Başladı." December 27, 2017. https://www.bosnakmedya.com/halilbeyli-istanbulda-ki-okullarda-bosnakca-arnavutca-secmeli-dersler-basladi.
Hobsbawm, Eric J. Milletler ve Milliyetçilik: Program, Mit, Gerçeklik. Translated by Osman Akınhay. Istanbul: Ayrıntı Yayıncılık, 2006.
Hoffman, George Walter. "The Evolution of the Ethnographic Map of Yugoslavia: A Historical Geographic Interpretation." In An Historical Geography of the Balkans, edited by Francis W. Carter, 440-464. London: Academic Press Inc., 1977.
Internethaber. "Boşnakça Yayın Başladı." Accessed December 14, 2020. http://www.internethaber.com/bosnakca-yayin-basladi-1074844h.htm.
İçduygu, Ahmet and Deniz Sert. "The Changing Waves of Migration from the Balkans to Turkey: A Historical Account." In Migration in the Southern Balkans, edited by Hans Vermeulen et al, 85–104. New York: Springer International Publishing, 2015.
Imamovic, Mustafa. Boşnakların Tarihi. Translated by Cenita Özgüner and Hüseyin Gül. Istanbul: Tarih Vakfı Yurt Yayınları, 2018.
Isajiw, Wsevolod W. "Definition and Dimensions of Ethnicity: A Theoretical Framework." In Challenges of Measuring an Ethnic World, Science, Politics and Reality: Proceedings of the Joint Canada-United States Conference on the Measurement of Ethnicity, April 1–3, edited by Statistics Canada and U.S. Bureau of Census, 407‒427. Washington D.C.: U.S Government Printing Office, 1993.
Kaçapor, Sait. Boşnaklar Türkiye'nin Sadık Vatandaşları. Istanbul: Kastaş Yayınevi, 2014.
Karpat, Kemal. Osmanlı'dan Günümüze Etnik Yapılanma ve Göçler. Istanbul: Timaş Yayınları, 2013.
Kırbaç, Amra Dedeic. "Tarih ve Gelenek Bağlamında Türkiye'de Boşnaklar." Uluslararası İnsan Bilimleri Dergisi 9, no. 1 (2012): 696–711.
Kırbaç, Amra Dedeic. "Boşnakların Türkiye'ye Göçleri." Akademik Bakış Dergisi 35 (March/April 2013): 1–19.
Koç, Şevket. Interviewed in Istanbul, April 15, 2021.
Kolaşinli, Hayri. Muhacirlerin İzinde: Boşnakların Trajik Göç Tarihinden Kesitler. Ankara: Lotus Yayınevi, 2003.
Laguerre, Michel. S. "Digital Diaspora." In Diasporas in the New Age: Identity, Politics and Community, edited by Andoni Alonso and Pedro J. Oiarzabal, 49–65. Nevada: University of Nevada Press, 2010.
Maalouf, Amin. Ölümcül Kimlikler. Translated by Aysel Bora. Istanbul: Yapı Kredi Yayınları, 2004.
McKay, Deirdre. The Virtual Meets Reality: Policy Implications of E-Diasporas. Special Report. Canberra: The Australian Strategic Policy Institute, 2017.
Memic, Mustafa. Karadağ Boşnak (Müslüman) Tarihi. Istanbul: Kastaş Yayınevi, 2016.
Milliyet, "Türkiye'deki Kürtlerin Sayısı." June 6, 2008. http://www.milliyet.com.tr/turkiye-deki-kurtlerin-sayisi--magazin-873452.
Nabi, Yaşar. Balkanlar ve Türklük II. Istanbul: Cumhuriyet Kitapları, 1999.
Pacariz, Sabina. The Migrations of Bosniaks to Turkey from 1945 to 1974: The Case of Sandzak. Sarajevo: Center for Advanced Studies, 2016.
Prepol, Doğan. "Boşnak Toplumu Seçimlerde Birlik Olmalı." Boşnak Dünyası, December 9, 2019. http://www.bosnakdunyasi.com/yazarlar/bosnak-toplumu-yerel-secimlerde-birlik-olmali. http://bosnakdunyasi.com/kasim2018/#p=14.
Radikal. "Boşnaklardan Boşnakça Yayına Tepki." June 7, 2004. http://www.radikal.com.tr/turkiye/bosnaklardan-bosnakca-yayina-tepki-713183.
Rüma, İnan. "Turkish Foreign Policy Towards the Balkans: New Activism, Neo-Ottomanism or /so What?" Turkish Policy Quarterly 9, no. 4 (2010): 133–140. http://turkishpolicy.com/article/406/turkish-foreign-policy-towards-the-balkans-new-activism-neo-ottomanism-orso-what-winter-2010.
Safran, William. "Diasporas in Modern Societies: Myths of Homeland and Return." Diaspora A Journal of Transnational Studies 1, no. 1 (Spring 1991): 83–99. https://doi.org/10.3138/diaspora.1.1.83.
Sancaklı, Nusret. "Tarihi Gerçekler Işığında Göçmenler ve Diaspora Safsataları." December 11, 2016. https://www.bosnakmedya.com/tarihi-gercekler-isiginda-gocmenler-diaspora-safsatalari.
Schad, Thomas. The Rediscovery of the Balkans? A Bosniak-Turkish Figuration in the Third Space between Istanbul and Sarajevo. European Institute Working Paper Series. Istanbul: Istanbul Bilgi University Publications, 2015.
Tekin, Cemile. "Yugoslavya'dan Türkiye'ye Göçün Nedenleri (1950–1958)." Selçuk Üniversitesi Sosyal Bilimler Enstitüsü Dergisi 39, (2018): 249–261.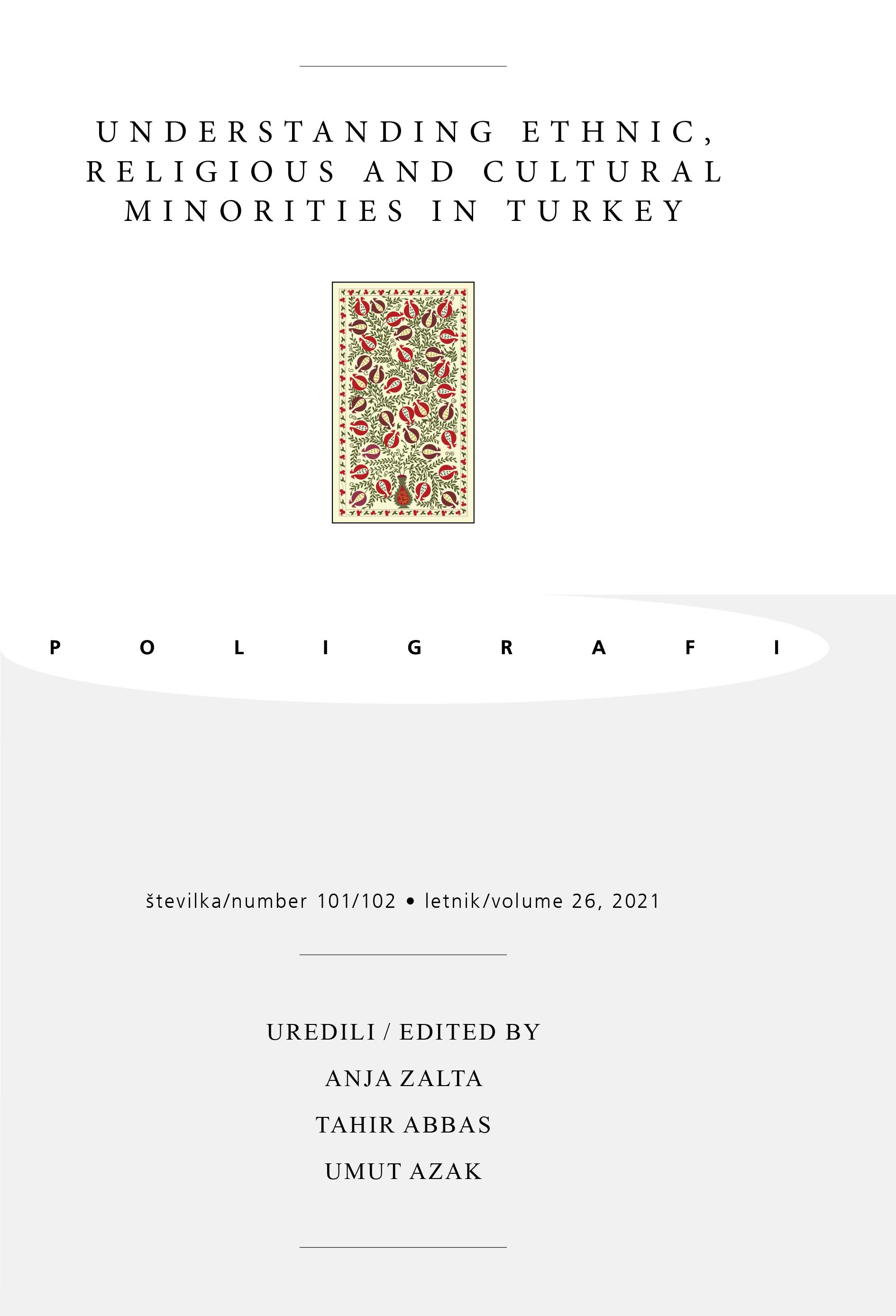 Downloads
How to Cite
Coban, Melih. 2021. "Caught Between the Notions of Ethnicity, Citizenship and Diaspora: The Case of the Bosniaks in Turkey". Poligrafi 26 (101/102). https://doi.org/10.35469/poligrafi.2021.286.