The Remaking and Unmaking of Multi-Ethnic Spaces
Diyarbakir and Southeast Anatolia in the 21st Century
Keywords:
Turkey, southeast Anatolia, ethnic identity, minorities, national identity, Justice and Development Party (AKP), nationalism
Abstract
Focusing on 21st century developments in southeast Anatolia, this article examines the circumstances of minority communities within the contexts of the shifting dynamics of Turkey's national project. Until the early 20th century southeast Anatolia was an ethnic patchwork. The early republican era saw efforts to "Turkify" through the promulgation of a national identity project asserting ethnic unity. From the 1980s, conflict with the PKK gave urgency to the notion that uniformity was paramount for national cohesion. In this milieu, ethnic diversity was suspect. Circumstances changed with the AKP government's 2002 ascendance and the earlier emergence of Kurdish municipal politicians. This article documents how thereafter the re-imagining of the national project away from an exclusive ethnic categorisation allowed acknowledgement and accommodation of ethnic and religious diversity across southeast Anatolia. The chapter analyses these events in light of a backlash by nationalist politicians, the 2015 re-ignition of the PKK conflict and the subsequent resurgence of nationalist rhetoric in the political arena. It appears a narrow, exclusive national identity is re-asserting itself. The article thus examines the extent to which the experience of south-eastern Anatolia represents the re-imagining of Turkey's national project and the embrace of a previously denied multi-ethnic socio-political fabric.
References
Andrews, Peter Alford. Ethnic Groups in the Republic of Turkey. Wiesbaden: Reichert Verlag, 1989.
Aslan, Senem. "Incoherent State: The Controversy over Kurdish Naming in Turkey." European Journal of Turkish Studies 10 (2009). https://doi.org/10.4000/ejts.4142.
Aslan, Senem. "Everyday Forms of State Power and the Kurds in Early Republican Turkey." International Journal of Middle East Studies 43 (2011): 75–93. https://doi.org/10.1017/S0020743810001200.
Bayir, Derya. Minorities and Nationalism in Turkish Law. Farnham, Surrey: Ashgate, 2013.
Biner, Zerrin Özlem. "Retrieving the Dignity of a Cosmopolitan City: Contested Perspectives on Rights, Culture and Ethnicity in Mardin." New Perspectives on Turkey 37 (2007): 31‒58, https://doi.org/10.1017/S0896634600004726.
Biner, Zerrin Özlem. "Acts of Defacement, Memory of Loss: Ghostly Effects of the 'Armenian Crisis' in Mardin, Southeastern Turkey." History & Memory, 22, no. 2 (2010): 68‒94. https://doi.org/10.2979/his.2010.22.2.68.
Çetin, Fethiye. My Grandmother: A Memoir. London: Verso, 2008.
Cizre, Ümit. "Turkey's Kurdish Problem: Borders, Identity, and Hegemony." In Right-Sizing the State: The Politics of Moving Borders, edited by Brendan O'Leary, Ian Lustick, and Thomas Callaghy, 222‒252. Oxford: Oxford University Press, 2001.
"Come Back, Diyarbakir Mayor Tells Armenians." Hürriyet Daily News, September 27, 2012. http://www.hurriyetdailynews.com/come-back-diyarbakir-mayor-tells-armenians-31096.
Danforth, Nick. "In Turkey, Obedience to the State Trumps Multiculturalism." Muftah, February 2, 2016. https://muftah.org/turkey-obedience-multiculturalism/.
De Bellaigue, Christopher. Rebel Land. London: Penguin, 2010.
Demirbaş, Abdullah. "Undoing Years of Progress in Turkey." New York Times, January 26, 2016. https://www.nytimes.com/2016/01/25/opinion/undoing-years-of-progress-in-turkey.html.
"Diyarbakır's Ruined Sur to Be Rebuilt 'Like Spain's Toledo,' Vows Turkish PM." Hürriyet Daily News, February 1, 2016. http://www.hurriyetdailynews.com/diyarbakirs-ruined-sur-to-be-rebuilt-like-spains-toledo-vows-turkish-pm-94615.
Doumanis, Nicholas. Before the Nation: Muslim-Christian Coexistence and Its Destruction in Late-Ottoman Anatolia. Oxford: Oxford University Press, 2013.
"Erdoğan: Gülenists, PKK, Armenian Brigands, YPG Tarred with the Same Brush." Hürriyet Daily News, June 17, 2016. http://www.hurriyetdailynews.com/erdogan-gulenists-pkk-armenian-brigands-ypg-tarred-with-the-same-brush-100617.
"Erdoğan'ın 'Kürt sorunu yoktur' açılımında geldiği son nokta: 'Var' diyen ayrımcıdır." Diken, April 28, 2015. http://www.diken.com.tr/erdoganin-kurt-sorunu-yoktur-aciliminda-geldigi-son-nokta-var-diyen-ayrimcidir/.
"Esedullah genelgesi." Demokrat Haber, November 21, 2015. https://www.demokrathaber.org/guncel/esedullah-genelgesi-h57528.html.
"First Turkish-Syriac Paper Hits the Shelves." Hürriyet Daily News, March 15, 2012. http://www.hurriyetdailynews.com/first-turkish-syriac-paper-hits-the-shelves-16039.
Gambetti, Zeynep. "Decolonizing Diyarbakır: Culture, Identity and the Struggle to Appropriate Urban Space." In Comparing Cities: The Middle East and South Asia, edited by Kamran Asdar Ali and Martina Rieker, 97‒129. Karachi: Oxford University Press, 2010.
Gellner, Ernest. Nations and Nationalism. Maldon: Blackwell, 2006.
Grigoriadis, Ioannis. "Türk or Türkiyeli? The Reform of Turkey's Minority Legislation and the Rediscovery of Ottomanism." Middle Eastern Studies 43, no. 3 (2007): 423‒438. https://www.jstor.org/stable/4284553.
Güneş, Cengiz. The Kurdish National Movement in Turkey: From Protest to Resistance. London: Routledge, 2012.
Güsten, Susanne. Farewell to Tur Abdin. Istanbul: Istanbul Policy Center, 2016.
"Mardin Diller ve Dinler Korosu' Kuruldu," Haber 7, December 18, 2012. http://www.haber7.com/muzik/haber/966296-mardin-diller-ve-dinler-korosu-kuruldu.
Hayden, Robert, et al. Antagonistic Tolerance: Competitive Sharing of Religious Sites and Spaces. London: Routledge, 2016.
"HDP'nin Seçim Videosu Yayında: İnadına Barış, İnadına Umut." Diken, October 16, 2015. http://www.diken.com.tr/hdpnin-secim-videosu-yayinda-inadina-baris-inadina-umut/.
Hrant Dink Foundation. "Türkiye Kültür Varlıkları Haritası." Accessed December 14, 2021. https://turkiyekulturvarliklari.hrantdink.org/.
İnce, Başak. Citizenship and Identity in Turkey: from Atatürk's Republic to the Present Day. London: I.B. Tauris, 2012.
Karaosmanoğlu, Kerem. "Revisiting the Self: Researching Minorities in Turkey." Insight Turkey 10, no. 3 (2008): 127‒143.
"Inclusive HDP Candidate List Aspires to Pass 10 Pct Election Threshold." Hürriyet Daily News, April 7, 2015. http://www.hurriyetdailynews.com/inclusive-hdp-candidate-list-aspires-to-pass-10-pct-election-threshold.aspx?pageID=238&nID=80731&NewsCatID=338.
Kaya, Ayhan. Europeanisation and Tolerance in Turkey: The Myth of Toleration.Basingstoke: Palgrave MacMillan, 2013.
"Kayyım Belediyenin İlk İcraatı: Çok Dilli Tabeladan Ermenice ve Süryanice Çıkarıldı." Agos, December 9, 2016. http://www.agos.com.tr/tr/yazi/17211/kayyim-belediyenin-ilk-icraati-cokdilli-tabeladan-ermenice-ve-suryanice-cikarildi.
Keyder, Çağlar. "Whither the Project of Modernity? Turkey in the 1990s." In Rethinking modernity and national identity in Turkey, edited by Sibel Bozdoğan and Reşat Kasaba, 37‒51. Seattle: University of Washington Press, 1997.
Kurban, Dilek. European Yearbook of Minority Issues, Vol. 4, 2004/5. Leiden: Brill, 2006.
"Kuzu'dan İlginç Açıklama: Teröristler Sünnetsiz." Hürriyet, September 8, 2015. http://www.hurriyet.com.tr/gundem/kuzu-dan-ilginc-aciklama-teroristler-sunnetsiz-30013152.
Letsch. Constance. "In Turkey, Repression of the Kurdish Language Is Back, With No End in Sight." The Nation, December 21, 2017. https://www.thenation.com/article/in-turkey-repression-of-the-kurdish-language-is-back-with-no-end-in-sight/.
Marilungo, Francesco. "The City of Terrorism or a City for Breakfast: Diyarbakir's Sense of Place in the TV Series Sultan." Middle East Journal of Culture and Communication 9, no. 3 (2016): 275‒293. https://doi.org/10.1163/18739865-00903005.
Massicard, Elise. "Claiming Difference in a Unitarist Frame: The Case of Alevism." In Turkey beyond Nationalism: Towards Post-nationalist Identities, edited by Hans-Lukas Kieser, 74‒82. London: I.B. Tauris, 2006.
"Master of Oud of Armenian Descent Announces Return to His Hometown, Diyarbakır." Hürriyet Daily News, March 30, 2013. http://www.hurriyetdailynews.com/master-of-oud-of-armenian-descent-announces-return-to-his-hometown-diyarbakir-43949.
McCarthy, Justin. The Armenian Rebellion at Van. Salt Lake City: University of Utah Press, 2006.
"Mıgırdıç Margosyan Couldn't Recognize His Street Amidst Ruins." Bianet, April 25, 2017. https://bianet.org/english/politics/185871-migirdic-margosyan-couldn-t-find-his-street-in-ruins.
"Nasra Çilli'ye Ödül." Sabah, March 3, 2012. https://www.sabah.com.tr/gundem/2012/03/08/nasra-cilliye-odul.
Öktem, Kerem. "The Nation's Imprint: Demographic Engineering and the Change of Toponyms in Republican Turkey." European Journal of Turkish Studies 7 (2008). https://doi.org/10.4000/ejts.2243.
Öncü. Ayşe. "Representing and Consuming 'the East' in Cultural Markets." New Perspectives on Turkey 45 (2011): 49‒73. https://doi.org/10.1017/S0896634600001308.
Öniş, Ziya. "Turkey's Two Elections: The AKP Comes Back." Journal of Democracy 27 no. 2 (2016): 141‒154.
Oran, Baskın. "Exploring Turkishness: 'Turkish' and Türkiyeli'." In Turkey and the Politics of National Identity, edited by Shane Brennan and Marc Herzog, 23‒37. London: I.B. Tauris, 2014.
Över, Defne. "Cultural Tourism and Complex Histories: The Armenian Akhtamar Church, the Turkish State and National Identity." Qualitative Sociology 39, no. 2 (2016): 173–194. https://doi.org/10.1007/s11133-016-9323-x.
Scalbert Yücel, Clémence. "Common Ground or Battlefield? Deconstructing the Politics of Recognition in Turkey." Nationalism and Ethnic Politics 22. no. 1 (2016): 71‒93. https://doi.org/10.1080/13537113.2016.1133862.
Temelkuran, Ece. Turkey: The Insane and the Melancholy. London: Zed Books, 2015.
Toumani, Meline. "Minority Rules." The New York Times Magazine, February 17, 2008. http://www.nytimes.com/2008/02/17/magazine/17turkey-t.html?pagewanted=all&_r=0.
Toumani, Meline. There Was and There Was Not: A Journey through Hate and Possibility in Turkey and Armenia. New York: Picador, 2014.
"Turkey Removes Two Dozen Elected Mayors in Kurdish Militant Crackdown." Reuters, September 11, 2016. https://www.reuters.com/article/us-turkey-security-kurds-idUSKCN11H065.
"Turkey's Top Muslim Cleric Calls for Reopening of Greek Seminary in Visit." Today's Zaman, May 7, 2012. https://www.archons.org/-/today-s-zaman-reports-on-turkey-s-top-muslim-cleric-calls-for-reopening-of-greek-seminary-in-visit.
"Turkish Government 'Firm' on Solving Woes of Minorities." Hürriyet Daily News, March 3, 2012. http://www.hurriyetdailynews.com/turkish-government-firm-on-solving-woes-of-minorities-15169.
"Turkish Nationalists Pray In Ancient Armenian Cathedral." Radio Free Europe, October 2, 2010. https://www.rferl.org/a/Turkish_Nationalists_Pray_In_Ancient_Armenian_Cathedral/2174492.html.
Üngör, Uğur Ümit. The Making of Modern Turkey: Nation and State in Eastern Anatolia, 1913‒50. Oxford, Oxford University Press, 2012.
White, Jenny. Muslim Nationalism and the New Turks. Princeton: Princeton University Press, 2013.
"Why Is Spanish Toledo Not Good Enough for Diyarbakir?" Rudaw, April 9, 2016. http://www.rudaw.net/english/middleeast/turkey/09042016.
Zubaida, Sami. "Religion and Ethnicity as Politicized Boundaries." In The Kurds: Nationalism and Politics, edited by Faleh Jabar and Hosham Dawod, 93‒102. London: Saqi, 2006.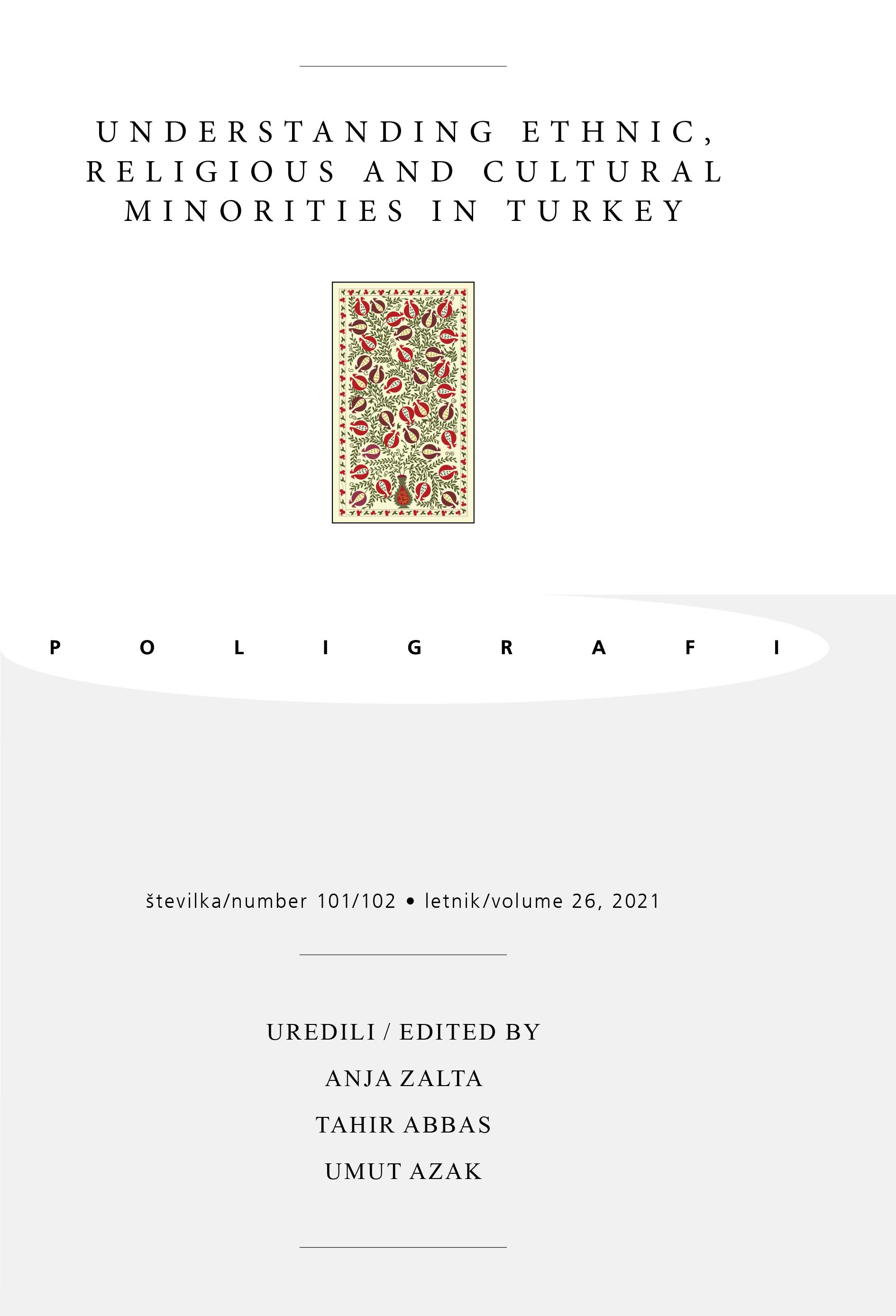 Downloads
How to Cite
Gourlay, William. 2021. "The Remaking and Unmaking of Multi-Ethnic Spaces : Diyarbakir and Southeast Anatolia in the 21st Century". Poligrafi 26 (101/102):65-92. https://doi.org/10.35469/poligrafi.2021.285.