Struggles and Dilemmas of Uyghur Immigrants in Turkey
Keywords:
Uyghur refugees, Uyghur immigration, integration, Uyghur dilemma, Turkish policy, Xinjiang (East Turkistan), Turkish and Chinese relations
Abstract
The social and economic integration of the Uyghurs into Turkish society reflects a problem to which policy makers have not yet found a response. Marginalized by the larger society and separated by linguistic differences and cultural and social life-styles, a significant proportion of Uyghurs, especially "newcomers" who have arrived since the 1980s, is in danger of becoming part of a "parallel society." This is reinforced by exclusion, inferiorization and "otherness," restricted educational achievements, uncertain citizenship, legal status limbo and low socioeconomic status. Pro-Uyghur, pro-independence and anti-Chinese government mobilization in Turkey has attracted the attention of Chinese authorities for a long time, and this attention has in turn affected and shaped mobilization in Turkey. The Turkey-China relationship is involved as well. The main goals of Chinese policy and strategy in Turkey are the security of "Xinjiang Uyghur Autonomous Region" (a.k.a. East Turkistan), access to natural resources, security of the Belt and Road Initiative (BRI) and economic and technological investment. It means that China believes it must consolidate its control of "Xinjiang" (East Turkistan) and restrain the Uyghur independence movement in Turkey. China's economic and technological power and investments in Turkey are not just increasing its influence; they are making Turkey far more reticent to speak out about Beijing's abuses, systematic oppression and atrocities in the "Xinjiang" (East Turkistan). China's geo-economic strategy has resulted in political influence in Turkey that profoundly affects its Uyghur population.
References
ABC. "Uighurs Live with Fear, Trauma as Families Remain Stranded in China's Growing 're-education Camps'." ABC's Asia Pacific Newsroom, October 6, 2018. https://www.abc.net.au/news/2018-06-24/uighur-community-in-australia-fear-reports-of-crackdown-in-china/9824554.
Alba, Richard, and Victor Nee. Remaking the American Mainstream: Assimilation and Contemporary Immigration. Cambridge, MA: Harvard University Press, 2003.
Alemdaroglu, Ayca, and Teppe Sultan. "Erdogan Is Turning Turkey into a Chinese Client State." Foreign Policy, September 9, 2020. https://foreignpolicy.com/2020/09/16/erdogan-is-turning-turkey-into-a-chinese-client-state).
Altay, Kuzzat. "Turkey Is No Longer a Safe Haven for the Uyghurs." Foreign Policy, March 2, 2021. https://foreignpolicy.com/2021/03/02/why-erdogan-has-abandoned-the-uyghurs.
Amnesty International. "Nowhere Feels Safe." Accessed February 26, 2020. https://www.amnesty.org/en/latest/research/2020/02/china-uyghurs-abroad-living-in-fear.
Anadolu Agency. "Turkey, China Justice Ministers Seek More Cooperation." November 14, 2018. https://www.aa.com.tr/en/asia-pacific/turkey-china-justice-ministers-seek-more-cooperation/1310926.
Aydin, Ömer. "'Doğu Türkistan Milli Meclisi' Kuruldu." Memleket, September 30, 2018. http://www.memleket.com.tr/dogu-turkistan-milli-meclisi-kuruldu-1512118h.htm.
Beck, John. "How China Spies on Uyghurs in Turkey. WhatsApp and WeChat Are Used to Intimidate and Surveil Uyghurs." Coda Story, February 13, 2020. https://codastory.com/authoritarian-tech/surveillance/uyghurs-turkey-whatsapp-wechat.
Beydulla, Mettursun. "Experiences of Uyghur Migration to Turkey and the United States: Issues of Religion, Law, Society, Residence, and Citizenship." In Migration and Islamic Ethics: Issues of Residence, Naturalization and Citizenship, edited by Ray Jureidini and Said Fares Hassan. Leiden; Boston: Brill, 2020. https://doi.org/10.1163/9789004417342_011.
Beydulla, Mettursun. "Sources and Perspectives on Late Nineteenth Century Uyghur History." In Conference Proceedings of the XVI Turkish Congress of History, September 22‒25, 2010. History of Central Asia and Caucasia 2. Ankara: Türk Tarih Kurumu [Turkish Historical Society], 2015.
Bozkurt, Abudulla. "Abdulkadir Yapuquan, China's Most Wanted Uighur, Freed in Turkey." Nordic Monitor, May 26, 2019. https://www.nordicmonitor.com/2019/05/abdulkadir-yapuquan-uighur-man-wanted-in-china-over-terror-charges-freed-in-turkey).
Bridge Beijing. "China COVID-19 Vaccine Tracker." August 12, 2021. https://bridgebeijing.com/blogposts/china-gives-a-major-boost-to-global-distribution-and-access-to-covid-19-vaccines/.
Browne, Gareth. "How Turkey Is Sending Muslim Uighurs back to China without Breaking Its Promise." The Telegraph, July 27, 2020. https://www.telegraph.co.uk/news/2020/07/26/turkey-sending-muslim-uighurs-back-china-without-breaking-promise.
CNN. "Turks Criticize Chinese Treatment of Uyghurs." Last modified July 11, 2009. https://www.cnn.com/2009/WORLD/europe/07/11/turkey.china.uyghurs/.
Çolakoğlu, Selçuk. "Turkey-China Relations: Rising Partnership." Ortadogu Analiz 5, no. 52 (2013): 32–45, https://www.orsam.org.tr/d_hbanaliz/3selcukcolakoglu.pdf.
Çolakoğlu, Selçuk. Turkish Perceptions of China's Rise, Report No. 39. Ankara: International Strategic Research Organization, 2014.
Cumming-Bruce, Nick. "U.N. Panel Confronts China over Reports that It Holds a Million Uighurs in Camps." New York Times, August 10, 2018. https://www.nytimes.com/2018/08/10/world/asia/china-xinjiang-un-uighurs.html.
Daragahi, Borzou. "We Can Reach You Wherever You Are: Uighurs Abroad Feel China's Reach." The Independent, November 12, 2018. https://www.independent.co.uk/news/world/middle-east/china-uighur-repression-espionage-informants-muslim-terrorism-a8626526.html.
Doerschler, Peter. "Push-Pull Factors and Immigrant Political Integration in Germany." Social Science Quarterly 87, no. 5 (December 2006): 1100–1116. https://www.jstor.org/stable/42956597.
Ekrem, Erkin. "Türk-Çin İliskilerinde Uygur Sorunu [Uyghur Issue in the Relationship between Turkey and China]." World Uyghur Congress, March 10, 2015. https://www.uyghurcongress.org/tr/turk-cin-iliskilerinde-uygur-sorunu/.
Ergin, Sadet. "Çin'den aşıların gecikmesinin nedeni Uygur Türkleri meselesi mi? [Are the Uyghur Turks Issue Reason for the Delay in Vaccines from China?]." Hurriyet, May 26, 2021. https://www.hurriyet.com.tr/yazarlar/sedat-ergin/cinden-asilarin-gecikmesinin-nedeni-uygur-turkleri-meselesi-mi-41818288.
Fahim, Kareem, and Karen DeYoung. "China Has Made Big Vaccine Promises. When They Come Up Short, Nations Struggle." The Washington Post, April 7, 2021. https://www.washingtonpost.com/world/middle_east/china-sinovac-turkey-coronavirus-vaccine/2021/04/06/f87bc1bc-93cd-11eb-aadc-af78701a30ca_story.html.
France 24. "37 countries defend China over Xinjiang in UN letter." July 12, 2019. https://www.france24.com/en/20190712-37-countries-defend-china-over-xinjiang-un-letter.
Gladney, Dru. Dislocating China: Reflections on Muslims, Minorities, and Other Subaltern Subjects. Chicago: University of Chicago Press, 2004.
Harris, Rachel. "Securitization and Mass Detentions in Xinjiang: How Uyghurs Became Quarantined from the Outside World." Quartz, September 5, 2018. https://qz.com/1377394/securitization-and-mass-detentions-in-xinjiang-how-uyghurs-became-quarantined-from-the-outside-world.
HRW. "Eradicating Ideological Viruses China's Campaign of Repression against Xinjiang's Muslims." Human Rights Watch, September 2018. https://www.hrw.org/sites/default/files/report_pdf/china0918_web.pdf.
Hunter, Fergus. "Detained and in Danger: The Tortured Australian Families Who Fear for Their Missing Loved Ones." The Sydney Morning Herald, November 17, 2018. https://www.smh.com.au/politics/federal/detained-and-in-danger-the-tortured-australian-families-who-fear-for-their-missing-loved-ones-20181115-p50g5q.html.
Hurriyet Daily News. "Turkey's External Debt Stock Reaches $466.7 Billion in First Quarter." June 29, 2018. http://www.hurriyetdailynews.com/turkeys-external-debt-stock-reaches-466-7-billion-in-first-quarter-133976.
Kakissis, Joanna. "'I Thought It Would Be Safe': Uighurs in Turkey Now Fear China's Long Arm." NPR, March 3, 2020. https://www.npr.org/2020/03/13/800118582/i-thought-it-would-be-safe-uighurs-in-turkey-now-fear-china-s-long-arm.
Kang, Dake, and Suzan Fraser. "Turkey Uighurs Fear Sellout to China in Exchange for Vaccine." AP News, February 5, 2021. https://apnews.com/article/turkey-beijing-coronavirus-pandemic-ankara-china-c8b714974552c484c501a5784efc117a.
Karhan, Batur, 2014, personal communication.
Karataş, Abdusalam. "Gundem Icinden: Doğu Türkistan (Agenda: East Turkistan)." TV5, July 23, 2018. https://www.facebook.com/100008284862701/videos/2228935120725962/UzpfSTEwMDAwODI4NDg2MjcwMToyMjI4OTc0MDc3Mzg4NzMz.
Landau, Jacob. Pan-Turkism: From Irredentism to Cooperation. Bloomington: Indiana University Press, 1995.
Mackerras, Collin. China's Ethnic Minorities and Globalization. London & New York: Routledge Curzon, 2003.
Mardin, Serif. "Center and Periphery Relations: A Key to Turkish Politics." In Political Participation in Turkey: Historical Background and Present Problems, edited by Engin Akarlı and Gabriel Ben-Dor. Istanbul: Bogaziçi University Publications, 1975.
Newlines Institute for Strategy and Policy. The Uyghur Genocide: An Examination of China's Breaches of the 1948 Genocide Convention, March 2021. https://newlinesinstitute.org/wp-content/uploads/Chinas-Breaches-of-the-GC3.pdf, 3‒5.
Oğurlu, Yücel. "Uygurlar'ın Vatandaşlığında İnsanlık Sınavını Kaybediyoruz… (I) [We Are Failing Our Test on the Uyghurs' Citizenship]." Diriliş postasi, November 17, 2018. https://www.dunyabulteni.net/analiz/uygurlarin-vatandasliginda-insanlik-sinavini-kaybediyoruz-h432888.html.
Oğurlu, Yücel. "Uygurlar'ın Vatandaşlığında İnsanlık Sınavını Kaybediyoruz… (I) [We Are Failing Our Test on the Uyghurs' Citizenship]." Diriliş postasi, November 19, 2018, https://www.uzerk.org/tr/uygurlarin-vatandasliginda-insanlik-sinavini-kaybediyoruz-i.html.
Radio Free Asia. "Exiled Leader Claims China Is behind Turkey's Decision to Detain a Uyghur." Last modified October 10, 2016. https://www.rfa.org/english/news/uyghur/exiled-leader-claims-china-10102016155133.html
Radio Free Asia. "Turkish Court Rejects China's Request to Extradite Uyghur Religious Teacher." April 9, 2021. https://www.rfa.org/english/news/uyghur/turkey-dismiss-04092021192932.html.
Radio Free Asia. "Uyghur Mother, Daughters Deported to China from Turkey." Last modified August 9, 2019. https://www.rfa.org/english/news/uyghur/deportation-08092019171834.html.
Radio Free Asia. "Uyhgurlar Hakkide Melumat Toplash Uchun Hitay Bezi Turklerge Ish Teklipi Sunghan [Chinese Offer Jobs to Some Turks to Collect Information about Uyghurs in Turkey]." Last modified October 6, 2017. https://www.rfa.org/uyghur/xewerler/xelqara-xewer/xitaydin-turuk-yashlirigha-jasusluq-teklipi-10062017222809.html.
Reuters. "Turkey Promises to Eliminate Anti-China Media Reports." August 3, 2017. https://www.reuters.com/article/us-china-turkey-idUSKBN1AJ1BV.
Reuters. "World-Coronavirus-Tracker-and-Maps." Last modified September 15, 2021. https://graphics.reuters.com/world-coronavirus-tracker-and-maps/countries-and-territories/turkey/.
Sahin, Tuba. "Turkcell, China Development Bank Ink $590M Loan Deal." Anadolu Agency, August 10, 2020. https://www.aa.com.tr/en/economy/turkcell-china-development-bank-ink-590m-loan-deal/1937231).
Seibert, Thomas. "Anxious Not to Offend China, Turkey Stays Mum on Treatment of Uighurs." The Arab Weekly, September 16, 2018. https://thearabweekly.com/anxious-not-offend-china-turkey-stays-mum-treatment-uighurs.
Shichor, Yizhak. "Limping on Two Legs: Uyghur Diaspora Organizations and the Prospects for Eastern Turkestan Independence." Central Asia and the Caucasus 6, 48 (2007): 121. https://ca-c.org/article/4216.
Shichor, Yizhak. "Virtual Transnationalism: Uyghur Communities in Europe and the Quest for Eastern Turkestan Independence." In Muslim Networks and Transnational Communities in and across Europe, edited by Stefano Allievi and Jørgen S. Nielsen. Leiden and Boston: Brill, 2003.
Shichor, Yizhak. Ethno-Diplomacy: The Uyghur Hitch in Sino-Turkish Relations. East West Center Policy Studies 53. Honolulu: East West Center, 2009. https://www.eastwestcenter.org/system/tdf/private/ps053.pdf?file=1&type=node&id=32351.
Stone, Robert. "How Coronavirus Pandemic Could Expand China's Footprint in Turkey." Middle East Eye, May 21, 2021. https://www.middleeasteye.net/opinion/how-coronavirus-pandemic-could-expand-chinas-footprint-turkey).
Tejelli, Huseyin. "Sheriqi Turkistan Musteqqilliq Herkiti [East Turkistan Independent Movement: Talk with Mr. Seyit Tumturk]." Qerindashliq Situdisi, September 15, 2018. https://www.facebook.com/search/videos/?q=huseyin%20tejelli.
Today's Zaman. "Turkey, China Set Eyes on $100 bln Mutual Trade." Last modified February 22, 2012. https://defence.pk/pdf/threads/turkey-china-set-eyes-on-100-bln-in-mutual-trade.160963/.
TRT World. "Uyghurs in Exile Say China Is Spying on Them Worldwide." Accessed June 14, 2018. http://www.etaa.org.au/uyghurs-in-exile-say-china-is-spying-on-them-worldwide.
Türk Ocakları. "Dogu Turkistan'daki Insan Haklari Ihlalleri Hakkinda Basin Açiklaması [Press Conference on Human Rights Violation in East Turkistan]," Turk Ocakları. Accessed October 28, 2018. https://www.facebook.com/search/top/?q=turk%20ocaklari%20dogu%20turkistan.
Turkey - China Extradition Agreement. "Treaty on Extradition between the Republic of Turkey and the People's Republic of China." Accessed May 13, 2017. https://www2.tbmm.gov.tr/d27/2/2-1798.pdf.
Ullah, Areeb. "Turkey to Block Anti-China Media to Dismay of Uighur Activists." Middle East Eye (MME), August 3, 2017. https://www.middleeasteye.net/news/Uyghur-community-fear-plight-forgotten-media-blackout-take-places-1230193452.
V-DEM Institute. "Autocratization Surges–Resistance Grows: Democracy Report 2020." University of Gothenburg, March 2020. https://www.v-dem.net/media/filer_public/de/39/de39af54-0bc5-4421-89ae-fb20dcc53dba/democracy_report.pdf.
Watson, Ivan, and Ben Westcott. "Cultural Genocide: How China Is Tearing Uyghur Families Apart in Xinjiang." CNN, November 15, 2018. https://www.cnn.com/2018/11/14/asia/uyghur-china-xinjiang-interview-intl/index.html.
Xinhua. "China's G20 Presidency Aligns with Turkey's Priorities." last modified November 16, 2015. http://www.china.org.cn/world/Off_the_Wire/2015-11/16/content_37078424.htm.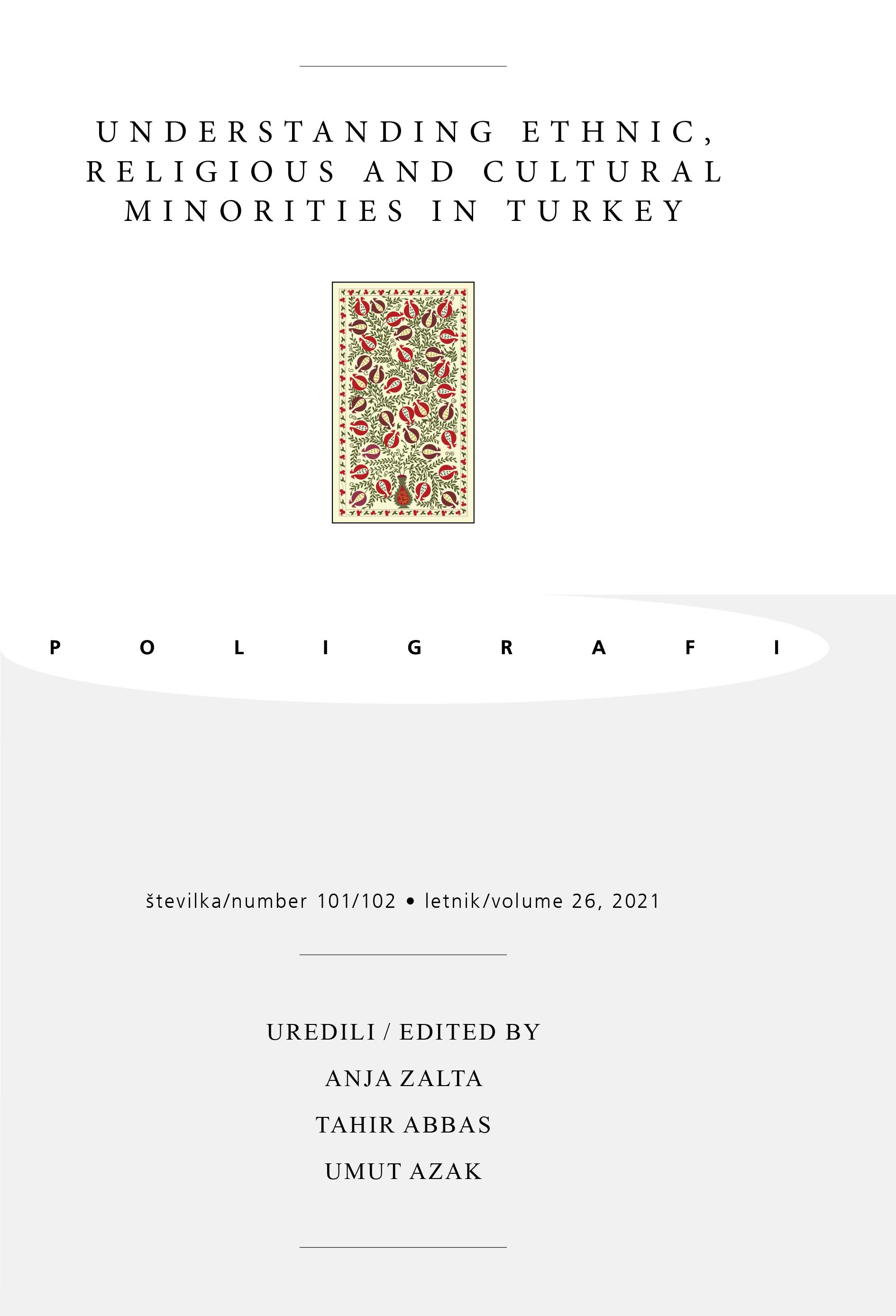 Downloads
How to Cite
Beydulla, Mettursun. 2021. "Struggles and Dilemmas of Uyghur Immigrants in Turkey:". Poligrafi 26 (101/102):201-34. https://doi.org/10.35469/poligrafi.2021.279.