The Perception of Minorities toward the Turkish State: The Case of Ethno-religious Communities
Keywords:
national identity, ethno-religious identity, religion-state relations, freedom of religion, civil society, non-Muslim minorities
Abstract
The relationship between state and non-Muslim communities has been a delicate issue since the founding of the Turkish Republic despite the principle of secularism stated in its constitution. Against this background, the association of national identity with Sunni-Islam has been the main marker of inclusion/exclusion to the national identity. Especially since 2002 when the Justice and Development Party (JDP) came to power, the debates with regard to freedom of religion and the rights of religious minorities came to fore. Over the course of decades there have been numerous studies approaching the state's perspective towards religious minorities. However, there are still scarce amount of academic studies that focuses on citizenship experiences of the members of these communities in their daily and social life practices. In this article, we first provide a historical perspective of the state towards religious minorities from the establishment of the Republic until today including the JDP period. In the second part of this study we aim to explore recasting perspectives of the non-Muslim minorities over the previous decade by taking the standpoint of the members of Greek Orthodox, Jews and Armenian communities. To this end, we conduct in-depth interviews with the members of these communities who are residing in Istanbul. Finally, new negotiation fields which have been flourishing among these communities will be addressed.
References
Agos. "Vakıf Seçimlerini İptal Eden Genelge Hükümsüz." March 23, 2021. Accessed May 21, 2021. http://www.agos.com.tr/tr/yazi/25481/vakif-secimlerini-iptal-eden-genelge-hukumsuz.
Akçam, Taner. From Empire to Republic: Turkish Nationalism and the Armenian Genocide. London: ZedBooks, 2004.
Akgönül, Samim. Türkiye Rumları. Istanbul: Iletisim, 2007.
Aktar, Ayhan. "Homogenizing the nation, Turkifying the Economy." In Crossing the Aegean, edited by Renée Hirschon, 79–95. Oxford, New York: Berghahn, 2003.
Bali, N. Rıfat. Antisemitism and Conspiracy Theories in Turkey. Istanbul: Libra, 2013.
Beylunioğlu, Anna Maria. Freedom of Religion in Turkey between Secular and Islamic Values. PhD Thesis, EUI, 2017.
Bianet. "Erdoğan: Bizim Tek Derdimiz Var, İslam, İslam, İslam [Erdogan: We Have Only One Concern, Islam, Islam, Islam]." July 31, 2015. Accessed May 20, 2021. https://bianet.org/bianet/siyaset/166454-erdogan-bizim-tek-derdimiz-var-islam-islam-islam.
Braude, Benjamin and Bernard Lewis. Christians and Jews in the Ottoman Empire. New York: Homes and Meir Publishers, 1982.
Brink-Danan, Marcy. Jewish Life in Twenty-First-Century Turkey: The Other Side of Tolerance. Bloomington: Indiana University Press, 2011.
Cohen Yanarocak, Hay Eytan. The Erdoğan Revolution in the Turkish Curriculum Textbooks, edited by David M. Bayer. Israel: IMPACT-SE, 2021. https://www.impact-se.org/wp-content/uploads/The-Erdogan-Revolution-in-the-Turkish-CurriculumTextbooks.pdf.
Erol, Su. Mazlum ve Makul İstanbul Süryanilerinde Etno-Dinsel Kimlik İnşası ve Kimlik Stratejileri. Istanbul: İletişim, 2016.
European Commission. "Turkey 2020 Report." October 6, 2020. Accessed June 28, 2021. https://ec.europa.eu/neighbourhood-enlargement/system/files/2020-10/turkey_report_2020.pdf.
Gültekin, Uygar. "Struma Faciası için ilk resmi anma." Agos, February 24, 2015. Accessed April 15, 2021. http://www.agos.com.tr/tr/yazi/10682/struma-faciasi-icin-ilk-resmi-anma.
Hurriyet Daily News. "First Church of Republican Era To Be Built for Istanbul's Syriacs." May 19, 2016. Accessed May 3, 2021. https://www.hurriyetdailynews.com/amp/first-church-of-republican-era-to-be-built-for-istanbuls-syriacs-99389.
Kaymak, Özgür. "Being a Turkish Jew in Unwelcomed Public Sphere." In Turkish Jews and Their Diasporas, edited by Kerem Öktem and İpek Kocaömer Yosmaoğlu. London: Palgrave Macmillan, forthcoming, December 2021.
Koru, Selim. "Turkey's Islamist Dream Finally Becomes a Reality." New York Times, July 14, 2020. https://www.nytimes.com/2020/07/14/opinion/hagia-sophia-turkey-mosque.html
Kurban, Dilek, and Kezban Hatemi. Bir 'Yabancı'laştırma Hikayesi: Türkiye'de Gayrimüslim Cemaatlerin Vakıf ve Taşınmaz Mülkiyet Sorunu [A Story of Abalienating: Problem of Foundation and Immovable Property of non-Muslim Communities in Turkey]. Istanbul: TESEV, 2009.
Oran, Baskın. Minorities and Minority Rights in Turkey. Boulder: Lynne Reinner, 2021.
Örs, İlay. İstanbullu Rumlar ve 1964 Sürgünleri. Istanbul: İletişim, 2019.
Patton, Marcie J. "AKP Reform Fatigue in Turkey: What Has Happened to the EU Process?" Mediterranean Politics 12, no. 3 (October 2007): 339–358. https://doi.org/10.1080/13629390701622382.
Presidency of Religious Affairs. "Basın Açıklaması – Misyonerlik [Press Release - Missionaries]." February 6, 2003. Accessed May 21, 2021. https://www.diyanet.gov.tr/tr-TR/Kurumsal/Detay/1211/basin-aciklamasi.
Roy, Olivier. "Islamising Stones Is Easier than Islamising Souls." Qantara.de, July 27, 2020. Accessed May 22, 2021. https://en.qantara.de/content/interview-with-olivier-roy-on-the-conversation-of-hagia-sophia-islamising-stones-is-easier.
Salim Nefes, Türkay. "Perceived Group Threats and Right Wing Political Party Membership as Driving Forces of Negative Descriptions in Turkish Parliamentary Debates (1983‒2018)." Journal of Ethnic and Migration Studies 47, no. 1 (May 2021). https://doi.org/10.1080/1369183X.2021.1924051.
TBMM. "Parliamentary Speech of AKP MP Avni Erdemir on 31 January 2008 (Term 23, Session 57)." Accessed June 12, 2021. https://www.tbmm.gov.tr.
United States Commission on International Religious Freedom. "Annual Report 2021." Accessed May 1, 2021. https://www.uscirf.gov/sites/default/files/2021-04/2021%20Annual%20Report.pdf.
USCIRF. "Turkey Report." Accessed May 26, 2021. https://www.uscirf.gov/sites/default/files/Turkey.pdf.
Valansi, Karel. The Crescent Moon and the Magen David: Turkish-Israeli Relations through the Lens of the Turkish Public. London: Hamilton Books, 2018.
Villelabeitia, Ibon. "Turkish PM Threatens to Expel Armenians." Reuters, March 17, 2010. Accessed May 25, 2021. https://www.reuters.com/article/us-turkey-armenia-idUSTRE62G2GN20100317.
Yılmaz, Gözde. "It Is Pull-and-Push that Matters for External Europeanization! Explaining Minority Policy Change in Turkey." Mediterranean Politics 19, no. 2 (May 2014): 238–258. https://doi.org/10.1080/13629395.2013.838443.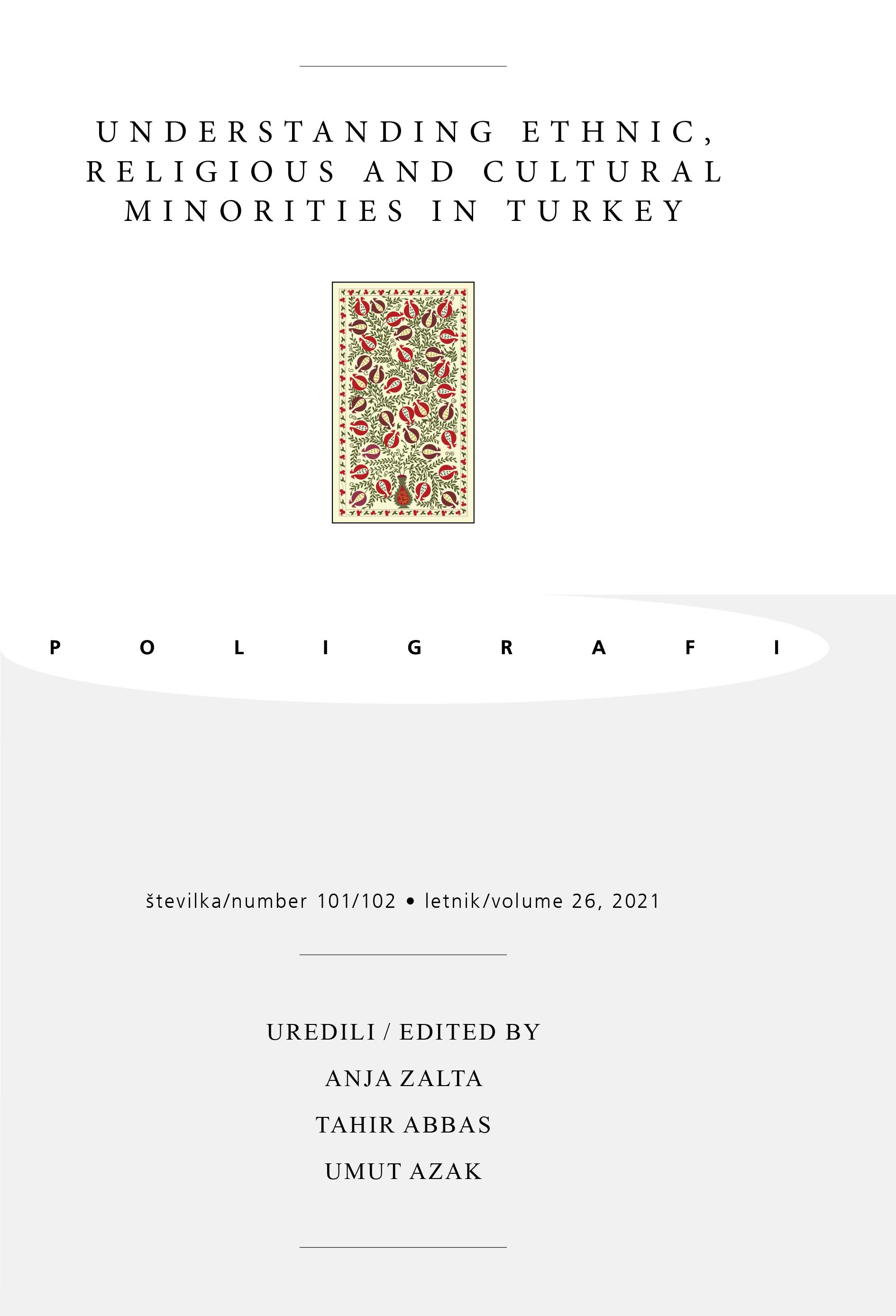 Downloads
How to Cite
Beylunioglu, Anna Maria, and Özgür Kaymak. 2021. "The Perception of Minorities Toward the Turkish State: The Case of Ethno-Religious Communities". Poligrafi 26 (101/102):5-29. https://doi.org/10.35469/poligrafi.2021.288.