"So What If I Am Laz?"
Irony, Mockery and Humor in Ethnic Integration and Insubordination
Keywords:
Laz, ethnicity, Turkey, irony, humor, mockery
Abstract
This study argues that the ethnic Laz in Turkey resort to irony, humor and mockery to cope with and negotiate the stereotypes, ethnic humor and mockery they encounter in their interactions with outsiders. The trope of irony, humor and mockery have enabled the Laz to navigate the national and regional hierarchies and reproduce their symbolic boundaries regardless of the common and ardent appropriation of Turkishness. In so doing, the Laz can more subtly challenge the official ideology of uniformity. While the public use of Lazuri is still considered a threat to the negotiated boundaries of Lazness, new instruments present creative displays of their ethnic capital which do not contradict present day principles of Turkish nationalism, and offer a legitimate sharing of intimacy without embarrassment. The Laz, like other non-Turkish Muslim peoples of the Black Sea region, abandoned their politically threatening ethnic distinctions, appropriated the capital of Turkishness through their performances, and coped with mockery and stigma by ironizing differences and negotiating, trivializing or selectively appropriating the stereotypes imposed upon them. Ironically, they have "out-performed" ethnic Turks in certain ways, in their search for acceptance as Turks, achieving upward mobility and avoiding forms of stigmatization.
References
Aksoy Sheridan, R. Aslıhan. "'Temel Fıkraları'nda Ötekileştirme Boyutu." Milli Folklor 19, no. 75 (2007): 95–103.
Alba, Richard. "Bright versus Blurred Boundaries: Second Generation Assimilation and Exclusion in France, Germany and USA." Ethnic and Racial Studies 28, no. 1 (2005): 20–49. https://doi.org/10.1080/0141987042000280003.
Ascherson, Neal. Black Sea: The Birthplace of Civilization and Barbarism. London: Vintage, 1996.
Barth, Fredrik. "Introduction." In Ethnic Groups and Boundaries: The Social Organization of Cultural Difference, edited by Fredrik Barth. Boston, MA: Little Brown and Company, 1969.
Bellér-Hann, Ildikó. "Hemshinli-Lazi Relations in Northeast Turkey." In The Hemshin History, Society and Identity in the Highlands of Northeast Turkey, edited by Hovann. H. Simonian, 52‒99. London: Routledge, 2007.
Bellér-Hann, Ildikó and Chris Hann. Turkish Region: State, Market & Social Identities on the Black Sea Coast. Oxford: School of American Research Press, 2001.
Benninghaus, Rüdiger. "Lazlar." In Türkiye'de Etnik Gruplar, edited by Peter Alford Andrews, 311‒320. Istanbul: Ant Yayınları, 1992.
Bianet. "UNESCO: 15 Languages Endangered in Turkey." Last modified February 22, 2009. http://bianet.org/english/english/112728-unesco-15-languages-endangered-in-turkey.
Billig, Michael. Laughter and Ridicule: Towards a Social Critique of Humour. London: Sage Publications, 2005.
Bilmez, Bülent and İrfan Çağatay. A Right Unclaimed: Elective Language Courses on Living Languages and Dialects in the Context of Language Rights. Laz Language Example (2012‒2021). Summary. Istanbul: Laz Kültür Derneği, 2021.
Boskin, Joseph and Joseph Dorinson. "Ethnic Humor: Subversion and Survival." American Quarterly 37, no. 1 (1985): 81–97.
Bourdieu, Pierre. Language and Symbolic Power. Cambridge: Polity Press, 1991.
Brubaker, Rogers, Margit Feischmidt, Jon Fox, and Liana Grancea. Nationalist Politics and Everyday Ethnicity in a Transylvanian Town. Princeton, NJ: Princeton University Press, 2008.
Bryer, Anthony. "Some Notes on the Laz and Tzan (I)." In Peoples and Settlement in Anatolia and the Caucasus 800–1900, edited by Anthony Bryer, 171‒190. London: Variorum Reprints, 1988.
Çağatay Aleksiva, İrfan. "15-16. yüzyılda Laz nüfusu, Islamlaşma ve devletsizlik üzerine." Last modified April 23, 2015. http://lazoba.blogspot.com.tr/2015/04/15-16-yuzylda-laz-nufusu-islamlasma-ve.html.
Çağatay Aleksiva, İrfan. "Laz entelleri arasında galat-ı meşhur olmuş yanlışlar. 1 Lazona." Last modified December 25, 2012. http://lazoba.blogspot.com.tr/2012/12/laz-entelleri-arasnda-galat-meshur.html.
Çavdar, Ayşe, ed. Gola Gza: Gola ile 10 yıl. Istanbul: Heyamola Yayınları, 2016.
Colebrook, Claire. Irony: The New Critical Idiom. London: Routledge, 2005.
Davies, Christie. "Undertaking the Comparative Study of Humor." In The Primer Humor Research, edited by Victor Raskin, 157‒182. Berlin: Mouton de Gruyter, 2008.
Davies, Christie. "Ethnic Jokes, Moral Values and Social Boundaries." The British Journal of Sociology 33 (1982), 383–403. https://doi.org/10.2307/589483.
Deniz, A. Çağlar. "Öğrenci İşi": Üniversite Öğrencilerinin Gündelik Hayatı: İstanbul Örneği. Istanbul: İletişim Yayınları, 2014.
Dönmez, Yağmur. "Ulus Devlet, Milliyetçilik ve Etnik Kimlik: Bir Çaykara Etnografisi." PhD Diss., Ankara: Ankara University, 2019.
Giles, Howard. "Ethnicity Markers in Speech." In Social Markers in Speech, edited by Klaus R. Scherer and Howard Giles, 251‒290. Cambridge: Cambridge University Press, 1979.
Goffman, Eric. Interaction Ritual. New York: Pantheon Books, 1967.
Halkın Habercisi. "İstanbul'da kazanan belediye başkanlarının %75'i Karadenizli." Last modified April 10, 2019. https://www.halkinhabercisi.com/istanbulda-kazanan-ilce-belediye-baskanlarinin-ui-karadenizli.
Hann, Chris. Tea and the Domestication of the Turkish State. Huntingdon: The Eothen Press, 1990.
Haznedar, Belma. Türkiye'de Lazcanın Mevcut Durumu. Istanbul: Laz Enstitüsü, 2018.
Herzfeld, Michael. "Irony and Power: Towards a Politics of Mockery in Greece." In Irony in Action: Anthropology, Practice and the Moral Imagination, edited by James W. Fernandez and Mary Taylor Huber, 63‒83. Chicago: The Chicago University Press, 2001.
Kuipers, Giselinde. "The Sociology of Humor." In The Primer Humor Research, edited by Victor Raskin 361‒394. Berlin: Mouton de Gruyter, 2008.
Kutscher, Silvia. "The Language of the Laz in Turkey: Contact-Induced Change or Gradual Language Loss?" Turkic Languages 12, no. 1 (2008): 82–102.
Lamont, Michèle and Virág Molnár. "The Study of Boundaries in the Social Sciences." Annual Review of Sociology 28 (August 2002): 167–195. https://doi.org/10.1146/annurev.soc.28.110601.141107.
Lowe, John. "Theories of Ethnic Humor: How to Enter Laughing." American Quarterly 38, no. 3 (1986):439‒460. https://doi.org/10.2307/2712676.
Lowry, Heath W. The Islamization and Turkification of the City of Trabzon (Trebizond) 1461–1583. Istanbul: The Isis Press, 2009.
Marr, Nikolay. Lazistan'a Yolculuk. Istanbul: Aras Yayınları, 2016.
Meeker, Michael. Nation of Empire: The Ottoman Legacy of Turkish Modernity. Berkeley: University of California Press, 2002.
Meeker, Michael. "Black Sea Turks: Some Aspects of Their Ethnic and Cultural Background." International Journal of Middle East Studies 2, no. 4 (1971): 318–345. https://doi.org/10.1017/S002074380000129X.
Pickering, Michael and Sharon Lockyer. "Introduction: The Ethics and Aesthetics of Humour and Comedy." In Beyond a Joke: Limits of Humour, edited by Michael Pickering and Sharon Lockyer, 1‒24. New York: Palgrave MacMillan, 2005.
Şendeniz, Özlem. "Kimdir Bu Lazlar": Laz Kimliği ve Sanal Mekanda Lazca. Istanbul: İletişim Yayınları, 2020.
Serdar, Ayşe. "Strategies of Making and Unmaking Ethnic Boundaries: Evidence on the Laz of Turkey." Ethnicities 19, no. 2 (April 2019): 335–369. https://doi.org/10.1177%2F1468796817739933.
Serdar, Ayşe. "Yerel ve Ulusal Ölçekte Lazlığın Etnik Sınırlarının Yeniden İnşası: Dil, Hafıza, Kültür." Mülkiye Dergisi 39, no. 1 (2015): 93–134.
Serdar, Ayşe. "Ethnic Languages, Multiculturalism and Assimilation." In Complex Migration of Global Citizens, edited by Lillian Mwanri and Jacob Maldenwaier, 71‒88. Oxford: Interdisciplinary Press, 2014.
Simonian, Hovann H. "History and Identity among the Hemshin." Central Asian Survey 25, no. 1‒2 (2006): 157–178. https://doi.org/10.1080/02634930600903247.
Taşkın, Nilüfer. "Laz: The Good Citizens of Multicultural Turkey." In Ethno-Cultural Others of Turkey: Contemporary Reflections, edited by Ahmet Kerim Gültekin and Çakır Ceyhan Suvari, 145‒162. Yerevan: Russian-Armenian University Press.
Taşkın, Nilüfer. Bu bir İsyan Şarkısı Değil: Lazlar, Kimlik Müzik. Istanbul: İletişim Yayınları, 2016.
Ünlü, Barış. Türklük Sözleşmesi: Oluşumu, İşleyişi ve Krizi. Ankara: Dipnot Yayınları, 2018.
Van Boeschoten, Riki. "Code-Switching, Linguistic Jokes and Ethnic Identity: Reading Hidden Transcripts in a Cross-Cultural Context." Journal of Modern Greek Studies, 24 (2006): 347–377. https://doi.org/10.1353/mgs.2006.0018.
Wimmer, Andreas. Ethnic Boundary Making: Institutions, Power, Networks. Oxford: Oxford University Press, 2013.
Wimmer, Andreas. "Elementary Strategies of Ethnic Boundary Making." Ethnic and Racial Studies 31, no. 6 (2008): 1025–1055. http://dx.doi.org/10.1080/01419870801905612.
Yılmaz, İsmail Güney. "Turkieşi doloxe de gale Lazepeşi nufusi-1." Last modified November 25, 2014. http://www.fikirkarargahi.com/turkiesi-doloxe-do-gale-lazepesi-nufusi/.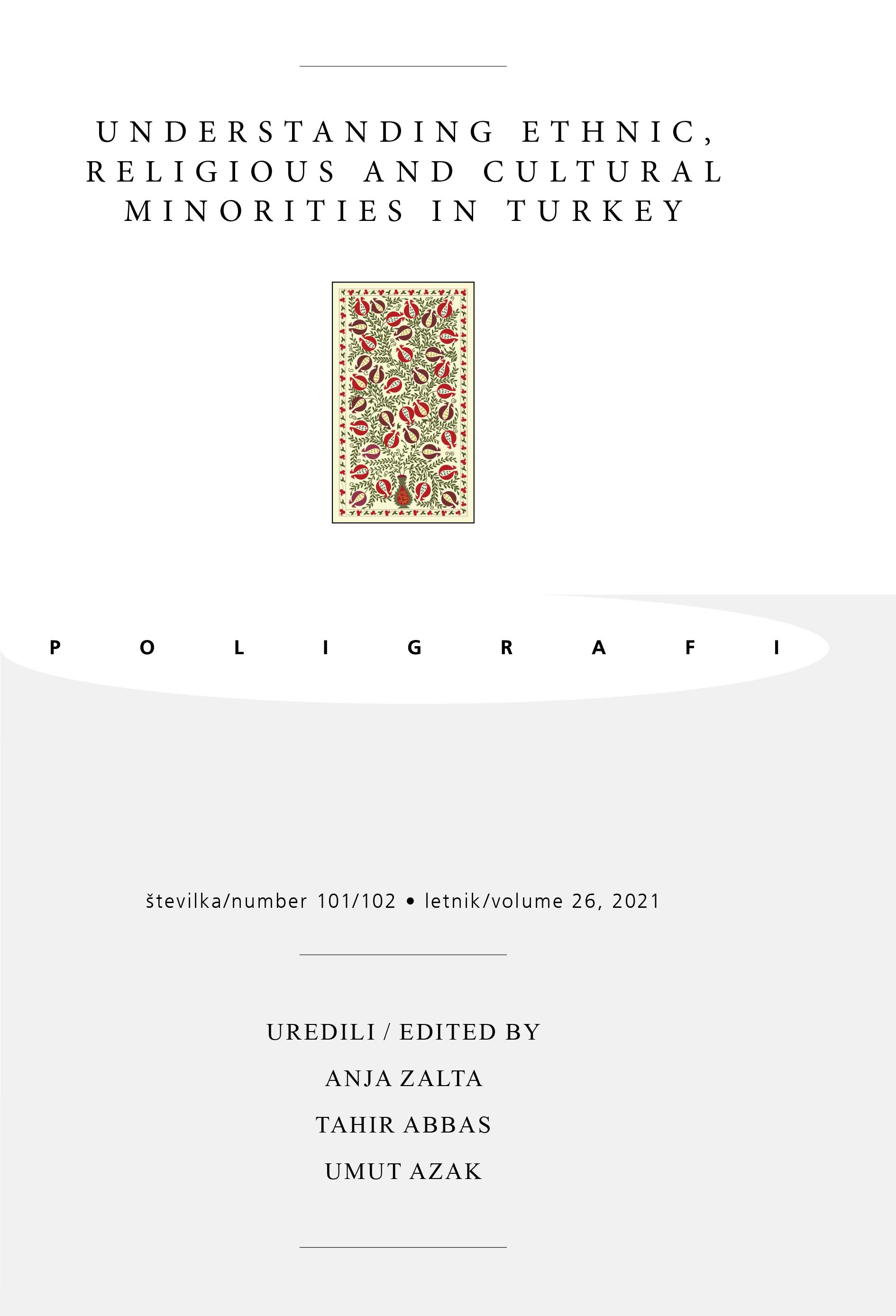 Downloads
How to Cite
Serdar, Ayşe. 2021. "'So What If I Am Laz?': Irony, Mockery and Humor in Ethnic Integration and Insubordination". Poligrafi 26 (101/102):125-51. https://doi.org/10.35469/poligrafi.2021.283.