Percepcija zakrivanja muslimanskih žensk
Maja Pucelj

Alma Mater Europaea ISH
Keywords:
zakrivanje, burka, nikab, muslimanske ženske, verska svoboda
Abstract
Burka in nikab, muslimanski oblačili, ki prekrivata obraz, sta v Evropi povzročili številne razprave o verski svobodi, enakopravnosti žensk, sekularni tradiciji in izraženih varnostnih pomislekih v kontekstu strahu pred terorizmom. Članek postavlja v središče percepcijo zakrivanja muslimanskih žensk s ključnim, za zdaj še neraziskanim raziskovalnim vprašanjem, ali je odklonilno mnenje do zakrivanja muslimanskih žensk, ki smo mu priča v javnem, medijskem in političnem diskurzu, posledica strahu pred zakrivanjem obraza in s tem nezmožnostjo komuniciranja ali gre za varnostni pomislek ali za niti ne tako prikrito posledico kulturnega rasizma ali pa ne nazadnje le za zavračanje muslimanske religije? Skozi teoretično in kvantitativno raziskavo, ki smo jo s pomočjo spletnega anketiranja opravili decembra 2018 in v kateri je sodelovalo 253 priložnostno, po načelu snežne kepe izbranih anketirancev, smo ugotovili, da je odklonilno mnenje splošne javnosti preplet vseh navedenih predpostavk, zato ni mogoče z gotovostjo navesti le enega od naštetih vzrokov, saj se ti medsebojno prepletajo in nadgrajujejo. Zakrite muslimanske ženske se zaradi zakrivanja in s tem vidnega izkazovanja verskih simbolov na sekularnem Zahodu soočajo s številnimi izzivi v vsakodnevnem življenju, treba pa se je zavedati, da lahko uspešno sobivanje v družbi, v kateri bi se vsi počutili sprejeti in uspešno vključeni, ustvarimo le z medsebojno spoštljivim in nesovražnim dialogom ter trudom obeh strani (torej zahodnih sekularnih družb
in zakritih muslimanskih žensk).
References
»A Brief History of the Veil in Islam.« Facing history and Ourselves. Dostop 27. oktobra 2019. https://www.facinghistory.org/civic-dilemmas/brief-historyveil-islam.
Ahmed, Leila. Women and gender in Islam: historical roots of a modern debate. New Haven: Yale University Press, 1992.
Attum, Basem, Waheed, Abdul in Zafar Shamoon. »Cultural Competence in the Care of Muslim Patients and Their Families«. 2019. Dostop 13. decembra 2019. https://www.ncbi.nlm.nih.gov/books/NBK499933/.
Bjarnadóttir, Ingunn. »Multiculturalism, Security and Stability in the International System: The Case of Migration«. Dostop 14. avgusta 2019. https://skemman.is/bitstream/1946/10479/1/Ingunn_Bjarnad%C3%B3ttir_MA.pdf.
Bočko, Vesna. »Simbolični pomen las v Stari in Novi zavezi«. Diplomsko delo. Ljubljana: Filozofska fakulteta, 2011.
Boucher, François. 20,000 Years of Fashion, the History of Costume and Personal Adornment. New York, Harry N. Abrams, 1967.
Clyne, Michael, in James Jupp. Multiculturalism and integration: A harmonious relationship. Canberra: ANU E Press, 2011.
»Dutch 'burqa ban' comes into force«. DW. Dostop 14. decembra 2019. https://www.dw.com/en/dutch-burqa-ban-comes-into-force/a-49838909.
»Evropska konvencija o varstvu človekovih pravic.« Evropsko sodišče za človekove pravice. Dostop 27. oktobra 2019. http://www.varuh-rs.si/fileadmin/user_upload/word/Temeljni_dokumenti_VCP/Konvencijo_o_clovekovih_pravicah_in_temeljnih_svoboscinah.pdf.
Everett, Jim A. C., Fabian M. H. Schellhaas, Brian D. Earp, Victoria Ando, Jessica Memarzia, Cesare V. Parise, Benjamin Fell, in Miles Hewstone. »Covered in stigma? The impact of differing levels of Islamic head-covering on explicit and implicit biases toward Muslim women.« Journal of Applied Social Psychology 45, št. 2 (2014). https://doi.org/10.1111/jasp.12278.
Harcet, Marjana. Alahove neveste: Med podrejenostjo in avtonomijo. Ljubljana: Fakulteta za podiplomski humanistični študij, 2007.
Hurn, Brian J., in Barry Tomalin. »Multiculturalism and Diversity.« V Cross-Cultural Communication. London: Palgrave Macmillan, (2013). https://doi.org/10.1057/9780230391147_10.
Kahf, Monja. »From Her Royal Body the Robe Was Removed: The Blessing of the Veil and the Trauma of Forced Unveilings in the Middle East.« V The Veil: Women Writers of Its History, Lore, and Politics, uredil J. Heath, 27–43. California: University of California Press, 2008.
Kalčić, Špela. Nisem jaz Barbika: oblačilne prakse, islam in identitetni procesi med Bošnjaki v Sloveniji. Ljubljana: Filozofska fakulteta, 2007.
Koura, Farima. »Navigating Islam: The Hijab and the American Workplace.« Societies 8, št. 4 (2018): 125. https://doi.org/10.3390/soc8040125.
Mahmud, Yusr, in Viren Swami. »The influence of the hijab (Islamic headcover) on perceptions of women's attractiveness and intelligence.« Body image 7, št. 1 (2010): 90–93. https://doi.org/10.1016/j.bodyim.2009.09.003.
McLean, Michelle, Ahbabi, Salma Al, Ameri, Mouza Al, Mansoori, Muneera Al, Yahyaei Fatima Al, in Roos Bernsen. »Muslim women and medical students in the clinical encounter: Patient involvement in medical education.« Medical education 44, št. 3 (2010): 306–315. https://doi.org/10.1111/j.1365-2923.2009.03599.x.
O'Neill, Brenda, Gidengil, Elisabeth, Côté, Catherine in Lisa Young. »Freedom of religion, women's agency and banning the face veil: the role of feminist beliefs in shaping women's opinion.« Ethnic and Racial Studies 38, št. 11 (2015). https://doi.org/10.1080/01419870.2014.887744.
Pucelj, Maja. »Islamofobija skozi prizmo sodobnih migracij«. Doktorska disertacija. Ljubljana: Alma Mater Europaea ISH, 2019.
Pucelj, Maja. Nivo uspešnosti integracije priseljencev islamske veroizpovedi v zahodne države. Ljubljana, Založba Vega, 2016.
Rajšp, Simona. »Kritika orientalistične paradigme: primer islamske prakse zakrivanja žensk«. Doktorska disertacija. Ljubljana: Univerza v Ljubljani, Fakulteta za družbene vede, 2012.
»Restrictions on Muslim women's dress in the 28 EU Member States: Current law, recent legal developments, and the state of play.« Open Society Foundation, 2018. https://www.justiceinitiative.org/uploads/dffdb416-5d63-4001-911b-d3f46e159acc/restrictions-on-muslim-womens-dress-in-28-eu-member-states-20180709.pdf.
Salazar, Ariana Monique, in Scott Gardner. »Most Western Europeans favor at least some restrictions on Muslim women's religious clothing.« Pew Research Center, 17. septembra 2018. https://www.pewresearch.org/fact-tank/2018/09/17/most-western-europeans-favor-at-least-some-restrictions-on-muslim-womensreligious-clothing/.
Sheen, Mercedes, Hajar Aman Key Yekani, in Timothy R. Jordan. »Investigating the effect of wearing the hijab: Perception of facial attractiveness« by Emirati Muslim women living in their native Muslim country. PLoS ONE, 13 št. 10 (2018): e0199537. https://doi.org/10.1371/journal.pone.0199537.
Shirazi, Faegheh, in Smeeta Mishra. »Young Muslim women on the face veil (niqab). Young Muslim women on the face veil (niqab). A tool of resistance in Europe but rejected in the United States.« International Journal of Cultural Studies 13, št. 1 (2010): 43–62. https://doi.org/10.1177/1367877909348538.
Stillman, Yeddida. K. Arab Dress: A Short History: From the Dawn of Islam to Modern Times. Leiden: Brill, 2003.
Trampuš, Jure. »Šolska pravila: Kje je meja med svobodo veroizpovedi in ideološko nevtralnostjo šole?.« Mladina, 9. novembra 2018. https://www.mladina.si/188154/solska-pravila/.
Učakar, Tjaša, in Ksenija Vidmar. »Multikulturalizem kot orodje spolnega podrejanja: analiza javnega diskurza o zakrivanju«. Šolsko polje, 22, št. 3–4 (2011): 149–170.
»Verska znamenja v javnosti niso protiustavna.« Družina, 18. oktober 2010. http://www.druzina.si/ICD/spletnastran.nsf/clanek/18.06.2010-25?Open.
Weitz, Rose. »Women and Their Hair: Seeking Power through Resistance and Accommodation.« Gender and Society 15, št. 5 (2011): 667–686. https://doi.org/10.1177/089124301015005003
Zahedi, Asraf. »Concealing and Revealing Female Hair: Veiling Dynamics in Contemporary Iran.« The Vail: Women Writers on Its History, Lore, and Politics, uredil J. Heath, 250–265. London: University of California Press, 2008.
Zempi, Irene, in Neil Chakraborti. »'They Make Us Feel Like We're a Virus': The Multiple Impacts of Islamophobic Hostility Towards Veiled Muslim Women«. Crime Justice Journal, 4, št. 3 (2015): 44–56.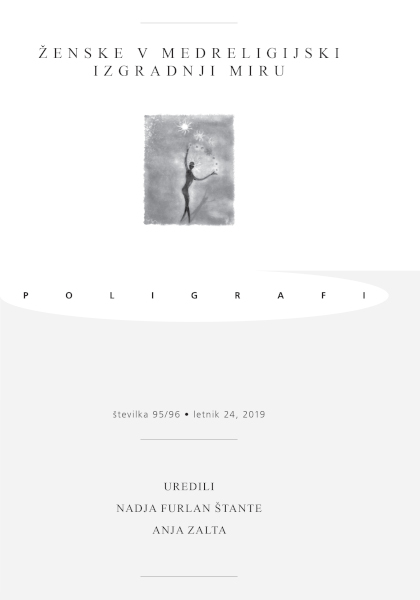 How to Cite
Pucelj, Maja. 2019. "Percepcija Zakrivanja Muslimanskih žensk". Poligrafi 24 (95/96), 127-54. https://doi.org/10.35469/poligrafi.2019.216.