Ženski glasovi in akcije v medreligijskem dialogu in religijski izgradnji miru v slovenskem kontekstu
Nadja Furlan Štante

Science and Research Centre Koper, Slovenia
Keywords:
ženske, medreligijski dialog, religijska izgradnja miru, migracije, sekularizacija
Abstract
V širšem kontekstu prispevek obravnava vprašanje pomembnosti kultiviranja aktivnega, iskrenega medverskega dialoga v kontekstu sodobnih migracij, ki prepoznava in razbija negativne stereotipne predstave in predsodke, dviguje raven strpnosti, spoštovanja in krepi medsebojno razumevanje v vsakdanjem življenju posameznikov različnih veroizpovedi in duhovnosti in tudi na hierarhični institucionalni verski ravni. Medreligijski in širše medverski dialog lahko razumemo kot nujen korak v evoluciji medčloveških in medreligijskih odnosov. V ožjem kontekstu bo predstavljeno vprašanje pomena pozitivnega prispevka k vključevanju (velikokrat manjkajočega) ženskega glasu v medverski dialog in versko izgradnjo miru. Predstavljeni bodo glavni primeri dobrih praks ženskih glasov in pobud v krščansko muslimanskem dialogu v slovenskem kontekstu. Medverski dialog in verska izgradnja miru sta s strani verskih in sekularnih akterjev pogosto razumljena kot naravni protistrup za versko nasilje in spore verskih »fiksnih« identitet.
References
Bouta, Tsjeard, Ayse Kadayifci-Orellana in Mohammed Abu-Nimer. Faith-Based Peace-Building: Mapping and Analysis of Christian, Muslim, and Multi-Faith Actors. Washington, D. C.: Netherlands Institute of International Rrelations, 2005.
Daggers, Jenny. »Gendering Interreligious Dialogue: Ethical Considerations. « V Gendering Christian Ethics, uredila Jenny Daggers, 51–75. Cambridge: Cambridge Scholars Publishing, 2012.
Drexler, Sybille in Friderich Heckmann. »The Role of Religion for the Integration of Migrants. A Conference Report.« December 2005. http://www.efms.unibamberg.de/pdf/tagungsbericht_gmf7.pdf.pdf.
Furlan Štante, Nadja. »Feminist Theology as a Special Philosophy of Religions and Theology (?) of Religions.« V »Religions and Dialogue«, uredila Helena Motoh in Lenart Škof, Poligrafi 22, št. 87/88 (2017): 55–71.
Furlan Štante, Nadja. »Metafizična intersubjektivnost ženske duhovnosti kot skupna etična platforma za osebno rast, medkulturni in medreligijski dialog«. V Religija kot dejavnik etičnosti in medkulturnega dialoga, uredila Bojan Žalec in Vojko Strahovnik, 76–87. Ljubljana: Teološka fakulteta Univerze v Ljubljani, 2017.
Gross, Rita. »Feminist Theology as Theology of Religions«. Feminist Theology 26 (2001):83–101. https://doi.org/10.1177/096673500100002606
»History of the ESWTR.« ESWTR. Dostop 10. oktobra 2019. https://www.eswtr.org/en/start/history.
Islamska skupnost v Sloveniji. »O društvu Zemzem.« Dostop 1. septembra 2019. https://www.islamska-skupnost.si/zz-zemzem/o-drustvu-zemzem/.
Katoliška cerkev. »Svetovni molitveni dan žensk.« Dostop 10. oktobra 2019. https://katoliska-cerkev.si/svetovni-molitveni-dan-zensk-2018.
Küng, Hans. Svetovni etos. Ljubljana: Društvo 2000, 2008.
O'Neill, Maura. Mending a Torn World: Women in Interreligious Dialogue. Faith Meets Faith Series. New York: Orbis, 2007.
Popov Momčinović, Zlatiborka. Žene i procesi pomirenja u Bosni i Hercegovini, Sarajevo: CEIR, 2018.
Radford Ruether, Rosemary. Religion and Sexism: Images of Women in the Jewish and Christian Traditions. New York: Simon and Schuster, 1974.
Radio Vatikan, »Papež Frančišek: Dialog je pot, ki jo ženska in moški morata opraviti skupaj«, http://www.archivioradiovaticana.va/storico/2017/06/09/dialog_je_pot,_ki_jo_%C5%BEenska_im_mo%C5%A1ki_morata_opraviti_skupaj/sl-1317895.
Republika Slovenija. »Urad za verske skupnosti.« Dostop 10. oktobra 2019. https://www.gov.si/drzavni-organi/ministrstva/ministrstvo-za-kulturo/o-ministrstvu/urad-za-verske-skupnosti/.
Republika Slovenija., »Verska svoboda.« Dostop 10. oktobra 2019. https://www.gov.si/podrocja/drzava-in-druzba/clovekove-pravice-in-enake-moznosti/verska-svoboda/.
Spahić-Šiljak, Zilka. »Do It and Name It: Feminist Theology and Peace Building in Bosnia and Herzegovina.« Journal of Feminist Studies in Religion 29, št. 2 (2013): 176–184.
Škof, Lenart. »On some foundations of pluralistic religious science and theology of multiplicity«. V Religions and Dialogue, uredila Helena Motoh in Lenart Škof, posebna številka, Poligrafi 22, št. 87/88 (2017): 23–39.
Vendramin, Valerija. »Ženske v literaturi: podobe, polemike in paradoksi«. Delta 3–4 (1997): 41–51.
Zalta, Anja. »(Ne)vidnost pokritih žensk«. Javnost 25 (2018): 52–64. https://doi.org/10.1080/13183222.2018.1554311.
Žebovec, Marjeta. »Slovenija pripravila molitveno bogoslužje za Svetovni molitveni dan žensk«, Časnik, 5. 3. 2019, https://www.casnik.si/slovenija-pripravila-molitveno-bogosluzje-za-svetovni-molitveni-dan-zensk/.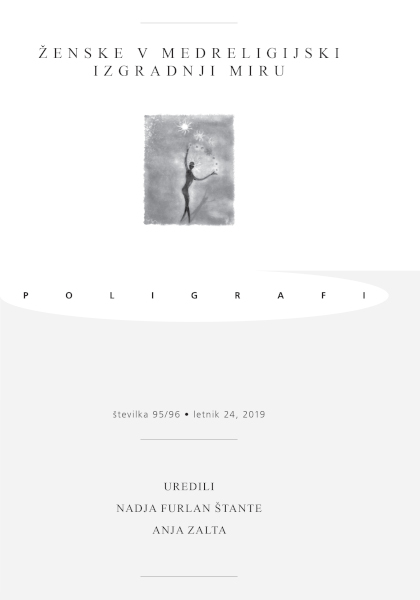 How to Cite
Furlan Štante, Nadja. 2019. "Ženski Glasovi in Akcije V Medreligijskem Dialogu in Religijski Izgradnji Miru V Slovenskem Kontekstu". Poligrafi 24 (95/96), 23-41. https://doi.org/10.35469/poligrafi.2019.210.