Začetki gibanja za pravice žensk v Maroku
pojav delitve na islamski in sekularni feminizem
Keywords:
Maroko, feminizem, islamski feminizem, sekularni feminizem, Fatima Mernissi
Abstract
Članek obravnava gibanja za spolno enakopravnost in razvoj sodobnih pogledov na feminizem v Maroku. Poskuša prikazati proces oblikovanja diskurza feminizma v Maroku v času kolonializma in tudi v času maroške neodvisnosti, zlasti v 80. in 90. letih 20. stoletja. Članek predstavlja problematiko emancipacije žensk, zlasti v religijskih okvirih, kjer so imeli vedno premoč moški. Prikaže tudi nestrinjanja in nasprotovanja glede definiranja pojma »feminizem« ter tudi glede uporabe pridevnikov »islamski« in »sekularni«. Kljub povečanju pisanj na temo feminizma ženske emancipacije in enakopravnosti v Maroku želi članek poudariti trenutne težave pri delovanju feministk na dveh ločenih področjih, zaradi katerih je gibanje v tej deželi še vedno relativno neuspešno in neprepoznavno. Seveda pa so obstajale in obstajajo še danes posamezne intelektualke, večinoma izobražene v tujini, ki so vodile gibanje in delale za njegovo prepoznavnost. Te poskušajo s ponovno interpretacijo ali prebiranjem svetih verskih besedil prikazati/dokazati prepričanje preroka Mohameda, da je ženska v vseh pogledih enakovredna moškemu.
References
Ali, Zahra, ur. »Conclusion: décoloniser et renouveler le féminisme«. V Féminismes islamiques, 39‒45. Pariz: La Fabrique éditions, 2012.
CVCE.EU. »L'Indépendance du Maroc et de la Tunisie.« Dostop 5. junija 2019. https://www.cvce.eu/education/unit-content/-/unit/dd10d6bf-e14d-40b5-9ee6-37f978c87a01/2796f581-3e5a-4dff-9fbe-fd3d48966b38.
Eddouada, Souad in Renata Pepicelli. »Morocco: Towards an 'Islamic State Feminism'«. Critique internationale, št. 46 (2010/1): 87‒100, https://doi.org/10.3917/crii.046.0087
Fox, Margalit. »Fatema Mernissi, a Founder of Islamic Feminism, Dies at 75.« The New York Times, 8. 6. 2019. https://www.nytimes.com/2015/12/10/world/middleeast/fatema-mernissi-a-founder-of-islamic-feminism-dies-at-75.html.
Lamrabet, Asma. »Entre refus de l'essentialisme et réforme radicale de la pensée musulmane«. V Féminismes islamiques, uredila Zahra Ali, 55–70. Pariz: La Fabrique éditions, 2012.
Mir-Hosseini, Ziba. »Muslim Women's Quest for Equality: Between Islamic Law and Feminism«. Critical Inquiry 32 (2006): 629‒645, https://doi.org/10.1086/508085.
Naciri, Rabéa. »Le mouvement des femmes au Maroc«. Nouvelles Questions Féministes 33, št. 2 (2014): 43‒64. https://doi.org/10.3917/nqf.332.0043
Pliez, Olivier in Bouziane Semmoud. »Maghreb: Géographie.« Universalis. fr. Dostop 6. junija 2019. https://www.universalis.fr/encyclopedie/maghreb-geographie/.
Račič, Manca. »Maroška družba in gibanja za spolno enakopravnost: Sodobni pogledi na (islamski) feminizem«. Magistrsko delo. Ljubljana: Filozofska fakulteta Univerze v Ljubljani, 2018.
R'chid, Moulay Abderrazak. La femme et la loi au Maroc. Casablanca: Le Fennec, 1991.
Rhouni, Raja. Secular and Islamic Feminist Critiques in the Work of Fatima Mernissi. Leiden/Boston: Koninklijke Brill, 2010.
Sadiqi, Fatima. »The Center: A Post-Revolution Space for Women's Movements in North Africa: Morocco as an Example«. V Women's Movements in Post-»Arab Spring« North Africa, uredila Fatima Sadiqi, 15−30. New York: Palgrave Macmillan, 2016. https://doi.org/10.1057/978-1-137-50675-7_2
Sadiqi, Fatima. Moroccan Feminist Discourses. New York: Palgrave Macmillan, 2014.
Salime, Zakia. Between Feminism and Islam: Human Rights and Sharia Law in Morocco. Minneapolis/London: University of Minnesota Press, 2011.
Seedat, Fatima. »Islam, Feminism, and Islamic Feminism: Between Inadequacy and Inevitability«. Journal of Feminist Studies in Religion 29, št. 2 (2013a): 25–45, https://doi.org/10.2979/jfemistudreli.29.2.25.
Seedat, Fatima. »When Islam and Feminism Converge«. The Muslim World 103, št. 3 (2013b): 404–420, https://doi.org/10.1111/muwo.12022.
UN WOMEN. »Convention on the Elimination of All Forms of Discrimination Against Women.« Dostop 8. junija 2019. http://www.un.org/womenwatch/daw/cedaw/.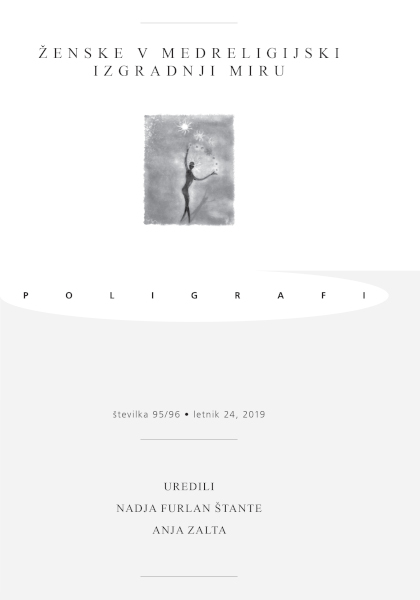 How to Cite
Račič, Manca. 2019. "Začetki Gibanja Za Pravice žensk V Maroku". Poligrafi 24 (95/96), 57-74. https://doi.org/10.35469/poligrafi.2019.208.