Ženski religijski mirovni aktivizem v Bosni in Hercegovini
Keywords:
ženski religijski aktivizem, ženski mirovni aktivizem, Bosna, dialog, nenasilna komunikacija, medreligijski dialog
Abstract
Žensko religijsko mirovništvo izvira iz skrajne potrebe verskih akterk pri njihovem spopadanju s težavami razdeljenih družb, mizoginih konceptov, strukturnega patriarhalnega nasilja in nasilnih etnonacionalističnih politik na Balkanu. Ženske verske mirovniške aktivistke v Bosni in Hercegovini uresničujejo številne projekte na vseh družbenih ravneh z medreligijskim dialogom, različnimi pogovori, mirovnim izobraževanjem ter delom z otroki in mladino. Ukvarjajo se z odpustitvijo, spravo, nenasilno komunikacijo, javnimi nastopi in kampanjami, ki si prizadevajo za bolj mirno in pravično družbo. Svoj navdih črpajo iz miroljubnih interpretacij svojih religij na podlagi poudarjanja duhovne povezanosti sveta, vključenosti ter prizadevanja za pravičnost in enakost med ljudmi. Žensko religijsko mirovništvo se uresničuje znotraj različnih religijskih skupnosti in cerkev, trenutno najpomembnejše pa so pri vsem tem vendarle posameznice, ki prinašajo nove miroljubne interpretacije religije in krepijo ženski glas v javnosti.
References
Abu-Nimer, Mohammed. »Toward the Theory and Practice of Positive Approaches to Peacebuilding«. V Positive Approaches to Peacebuilding: A Resource for Innovators, uredili Cynthia Sampson, Mohammed Abu-Nimer, Claudia Liebler in DianaWhitney, 13–23. Washington, D. C.: Pact Publications, 2003.
Ćurak, Nerzuk. Obnova bosanskih utopija. Sarajevo in Zagreb: Synopsis, 2006.
Dirkem, Emil. Elementarni oblici religijskog života. Zagreb: Jesenski i Turk, 2008.
Goodwin, Stephen R. »Razbijena zemlja, narodi koji se oporavljaju: Vjerske barijere i doprinosi ka pomirenju u poslijeratnoj BiH.« V Religijski pristup pomirenju u Bosni i Hercegovini, uredili Heinz-Gerhard Justenhoven, Paul Mojzes in Vjekoslav Saje, 45–65. Sarajevo: MAG Plus, 2004.
Humo, Hamza. »Hanarin put«, Pjesme. Sarajevo: Svjetlost, 1991.
Lederach, John Paul. Building Peace: Sustainable Reconciliation in Divided Societies. Washington, D. C.: United States Institute of Peace, 1997.
Levenson, Jon D. Inheriting Abraham: The Legacy of the Patriarch in Judaism, Christianity, and Islam. Library of Jewish Ideas. New Jersey: Princeton University Press, 2012.
Seligman, Adam B., Rahel R. Wasserfall in David M. Montgomery. Living with Difference: How to Build Community in a Divided World. Oakland, California: University of California Press, 2015.
Shier, Micheal L., in John R. Graham. »Social Work, Religion, Culture and Spirituality«. V The SAGE Handbook of International Social Work, uredili Karen Lyons, Terry Hokenstad, Manohar Pawar, Nathalie Huegler in Nigel Hall, 279–293. Thousand Oaks: SAGE Publications Ltd, 2012.
Smock, David R. Interfaith Dialogue and Peacebuilding. Washington, D. C.: USIP, 2002
Spahić-Šiljak, Zilka. Sjaj ljudskosti: životne priče mirotvorki u Bosni i Hercegovini. Sarajevo: TPO Fondacija, 2013.
Vuković, Željko. Ubijanje Sarajeva: Napisano u Sarajevu i Beogradu od maja do kraja decembra 1992. godine. Podgorica: Kron, 1993.
Wolf, Miroslav. »Kako ispravno pamtiti zlodjela: o sjećanju žrtava i počinitelja«. V Opasna sjećanja i pomirenje: Kontekstualna promišljanja o religiji u postkonfliktnom društvu, uredili Srđan Sremac, Zoran Grozdanov in Nikola Knežević, 13–32. Reka: Ex Libris, 2012.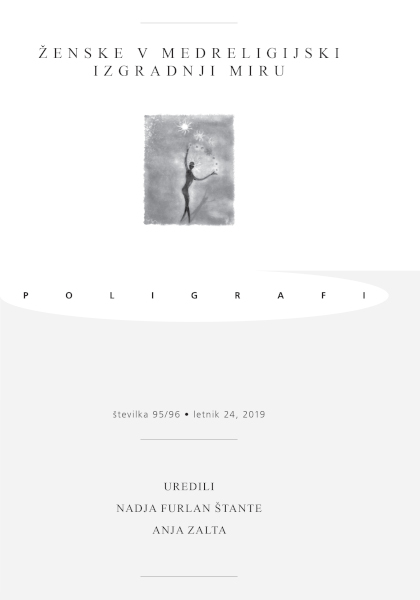 How to Cite
Pandžo, Amra. 2019. "Ženski Religijski Mirovni Aktivizem V Bosni in Hercegovini". Poligrafi 24 (95/96), 43-55. https://doi.org/10.35469/poligrafi.2019.207.