Spoj islamskega feminizma in izgradnje miru
izkušnje iz Bosne
Keywords:
izgradnja miru, islamski feminizem, enakost spolov, dialog, Bosna
Abstract
Članek prikazuje tesno prepletene poti islamskega feminizma in vzpostavljanja miru v Bosni in Hercegovini. Proučuje, kako je družbeno-politični kontekst regije vplival na nastajanje miru in islamski feminizem ter kako so sekularne človekove pravice in feministične organizacije bosanskim aktivistkam omogočile plodno podlago za izvajanje feministične teologije, še preden so bile izpostavljene teoretičnim temeljem islamskega feminizma. S primeri pomembnih feministk in aktivistov za človekove pravice v regiji in projektov, ki se zavzemajo za ozaveščanje o temah, kot so enakost spolov, mir in sprava, prispevek raziskuje trajen odnos med islamskim feminizmom in izgradnjo miru. Jezik religije in feminizma se je izkazal kot koristno orodje za pospeševanje izgradnje miru in dialoga znotraj skupnosti, hkrati pa sekularne organizacije za človekove pravice še naprej zagotavljajo edini prostor za sodelovanje z islamskim feminizmom v patriarhalni družbi.
References
Alibašić, Ahmet, in Asim Zubčević. »Islamic Education in Bosnia and Herzegovina«. V Islamic Education in Europe, uredil Ednan Aslan. Dunaj, Köln in Wiemar: Bohlau Werlag, 2009.
Badran, Margot. »A Piece of Peace: Looking at Feminist Spaces in Islam«. Track Two: »Religion, Conflict, and Peace«: Reflections on Peace and Conflict in the Aftermath of September 11, Quarterly of the Centre for Conflict Resolution, University of Cape Town, Južnoafriška republika, 2003.
Bringa, Tone. Being Muslim the Bosnian Way: Identity and Community in a Central Bosnia Village. Princeton, NJ: Princeton University Press, 1996.
Drakulić, Slavenka. Smrtni grijesi feminizma: Ogledi o mudologiji. Zagreb: Znanje, 1984.
Helms, Elissa. Innocence and Victimhood: Gender, Nation, and Women's Activism in Post-war Bosnia-Herzegovina. Madison, WI: University of Wisconsin Press, 2013.
Hunt, Swanee. Worlds Apart: Bosnian Lessons for Global Security. Durham: Duke University Press, 2011.
Karčić, Harun. »Globalisation and Islam in Bosnia: Foreign Influences and Their Effects«. Totalitarian Movements and Political Religions 11, št. 2 (2010): 151–166. https://doi.org/10.1080/14690764.2010.511467
Lederach, John Paul. The Moral Imagination: The Art and Soul of Building Peace. Oxford: Oxford University Press, 2005.
Merdjanova, Ina, in Patrice Brodeur. Religion as a Conversation Starter: Interreligious Dialogue for Peacebuilding in the Balkans. New York: Continuum, 2009.
Pandžo, Amra. Priručnik za nastavnice i nastavnike islamske vjeronauke o mirovnoj dimenziji islama. [Priročnik za učitelje in učiteljice muslimanskega verouka o mirovni dimenziji islamske vere]. Sarajevo: Udruženje za dijalog u porodici i društvu Mali koraci, 2008.
Pankhurst, Donna. Gendered Peace: Women's Struggles for Post-war Justice and Reconciliation. New York: Routledge, 2009.
Porter, Elisabeth J. Peacebuilding: Women in International Perspective. London: Routledge, 2007.
Robinson, Fiona. The Ethics of Care: A Feminist Approach to Human Security. Filadelfija: Temple University Press, 2011.
Slapšak, Svetlana. »The Use of Women and the Role of Women in the Yugoslav War«. V Gender, Peace, and Conflict, uredila Inger Skjelsbaek in Dan Smith, 161–183. Thousand Oaks, CA: Sage, 2001.
Spahić-Šiljak, Zilka, in Rebeka Jadranka Anić, ur. Women: Believers and Citizens. Sarajevo: TPO Fondacija Sarajevo, 2009.
Spahić-Šiljak, Zilka, in Sabiha Husić, ur. Countering Violence with Dialogue: Gender-based Violence and Multi-religious Dialogue. Sarajevo: TPO Fondacija, 2010.
Spahić-Šiljak, Zilka. »Do It and Name It: Feminist Theology and Peacebuilding in Bosnia and Herzegovina«. Journal of Feminist Studies in Religion 29, št. 2 (2013): 165–186.
Spahić-Šiljak, Zilka. Contesting Female, Feminist, and Muslim Identities: Post-socialist Contexts of Bosnia and Herzegovina and Kosovo. Sarajevo: Center for Interdisciplinary Postgraduate Studies of the University of Sarajevo, 2012.
Spahić-Šiljak, Zilka. Shining Humanity. Life Stories of Women Peacebuilders in Bosnia and Herzegovina. Newcastle: Cambridge Scholars Publishing, 2014.
The Quran and Sunnah Society. »An Introduction to the Salafi Da'wah«. http://www.qss.org/articles/salafi/text.html.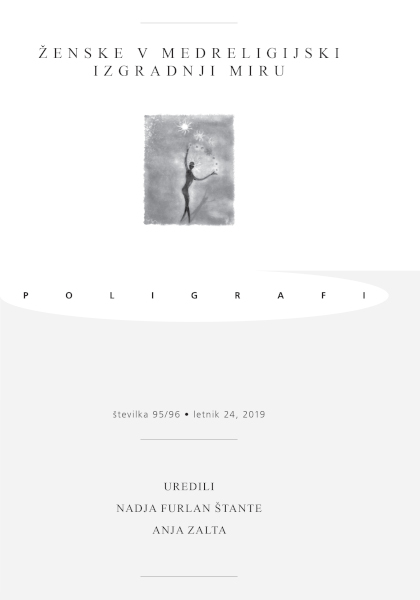 How to Cite
Spahić-Šiljak, Zilka. 2019. "Spoj Islamskega Feminizma in Izgradnje Miru". Poligrafi 24 (95/96), 3-22. https://doi.org/10.35469/poligrafi.2019.203.