Injury prevention and physiotherapy procedures for ankle injuries in ballet dancers
A literature review
Keywords:
rehabilitation, ballet, ankle, physiotherapy, prevention, injury
Abstract
The aim of this study was to investigate the most frequent, effective and up-to-date injury prevention and physiotherapy procedures used in relation to ballet dancers' ankle injuries. A literature review with a qualitative analysis was performed using the following databases: PubMed, SAGE, ScienceDirect, PlosOne and Cochrane Library. The inclusion criteria were: both genders, age > 18, journal impact factor > 0, age of study ≤ 10 years and the following search keywords were used: "ankle", "injury", "ballet", "dancers", "physiotherapy", "physical therapy" and "prevention". A total of 520 articles were found, out of which six were determined to be appropriate according to the inclusion and exclusion criteria. They dealt with the prevention/rehabilitation of ankle sprains (N=2), tendinopathy of the Achilles tendon (N=2), tendinitis of the m. hallucis longus (N=4), rupture of the Achilles tendon (N=2), and anterior (N=3) and posterior (N=4) impingement syndrome. It was found that for injury prevention in ballet, strengthening and stretching exercises are the most often used methods, while rest, ice therapy, muscle strengthening exercises, foot braces and dance technique optimisation are the most frequently used methods in injury management. These seem to also be the most up-to-date injury prevention and physiotherapy procedures, while the most effective procedures could not be retrieved due to a lack of relevant studies, which prevented the quantitative comparison of their effectiveness. The published clinical evidence endorses physiotherapy/kinesiotherapy as an effective ankle injury prevention and management modality in ballet dancers, although additional studies with a better quality of methodology are required.
References
Bickle, C., Deighan, M., & Theis, N. (2018). The effect of pointe shoe deterioration on foot and ankle kinematics and kinetics in professional ballet dancers. Human Movement Science, 60, 72–77. https://doi.org/10.1016/j.humov.2018.05.011
Biernacki, L., Stracciolini, J. A., Fraser, J., Micheli, L. J. & Sugimoto, D. (2018). Risk fac-tors for lower-extremity injuries in female ballet dancers: a systematic review. Clinical Journal of Sport Medicine, 31(2), 64–79. https://doi.org/10.1097/JSM.0000000000000707
Bleakley, C. M., O'Connor, S. R., Tully, M. A., Rocke, L. G., Macaulez, D. C., Brand-bury, I. … McDonough, S. M. (2010). Effect of accelerated rehabilitation on function after ankle sprain: randomised controlled trial. BMJ, 340(c1964), 1–7. https://doi.org/10.1136/bmj.c1964
Campbell, R. S., Lehr, M. E., Livingston, A., McCurdy, M., & Ware, J. K. (2019). Intrinsic modifiable risk factors in ballet dancers: Applying evidence based practice principles to enhance clinical applications. Physical Therapy in Sport: Official Journal of the Association of Chartered Physiotherapists in Sports Medicine, 38, 106–114. https://doi.org/10.1016/j.ptsp.2019.04.022
Chen, E. T., McInnis, K. C. & Borg-Stein, J. (2019). Ankle sprains: evaluation, rehabilita-tion, and prevention. Current Sports Medicine Reports, 18(6), 217–223. https://doi.org/10.1249/JSR.0000000000000603
Doherty, C., Delahunt, E., Caulfield, B., Hertel, J., Ryan, J. & Bleakley, C. (2014). The incidence and prevalence of ankle sprain injury: a systematic review and meta-analysis of pro-spective epidemiological studies. Sports Medicine, 44 (1), 123–140. https://doi.org/10.1007/s40279-013-0102-5
Ekegren, C. L., Quested, R., & Brodrick, A. (2014). Injuries in pre-professional ballet danc-ers: Incidence, characteristics and consequences. Journal of Science and Medicine in Sport, 17(3), 271–275. https://doi.org/10.1016/j.jsams.2013.07.013
Kadel, N. (2014). Foot and ankle problems in dancers. Physical Medicine and Rehabilitation Clinics of North America, 25(4), 829–844. https://doi.org/10.1016/j.pmr.2014.06.003
Leanderson, C., Leanderson, J., Wykman, A., Strender, L. E., Johansson, S. E., & Sundquist, K. (2011). Musculoskeletal injuries in young ballet dancers. Knee surgery, Sports Traumatology, Arthroscopy: Official Journal of the ESSKA, 19(9), 1531–1535. https://doi.org/10.1007/s00167-011-1445-9
Martin, R. L. M., Davenport, T. E., Fraser, J. J., Sawdon-Bea, J., Carcia, C. R., Carroll, L. A., ... Carreira, D. (2021). Ankle stability and movement coordination impairments: lateral ankle ligament sprains revision 2021. Journal of Orthopaedic & Sports Physical Therapy, 51(4), 155–195. https://doi.org/10.2519/jospt.2021.0302.
Meeusen, R. & Borms, J. (1992). Gymnastic injuries. Sports Medicine, 13(5), 337-356. https://doi.org/10.2165/00007256-199213050-00004
Morton, J. (2013). The virtuoso foot. Clinical Rheumatology, 32(4), 439–447. https://doi.org/10.1007/s10067-013-2187-5
Nunes, G. S., Tessarin, B. M., Scattone Silva, R., & Serrão, F. V. (2019). Relationship be-tween the architecture and function of ankle plantar flexors with Achilles tendon morphology in ballet dancers. Human Movement Science, 67. https://doi.org/10.1016/j.humov.2019.102494
Obrul, M. (2020). Vpliv prehrane na plesalce [The Impact of Diet on Dancers]. Akademija za ples Alma Mater Europaea. Retrieved from https://dance-academy.almamater.si/wp-content/uploads/2020/09/20_Monja-Obrul_Vpliv-prehrane-na-plesalce-revidirano.pdf
Page, M. J., Moher D., Bossuyt, P. M., Boutron, I., Hoffmann, T. C., Mulrow, C. D., … McKenzie, J. E. (2021). PRISMA 2020 explanation and elaboration: updated guidance and exemplars for reporting systematic reviews. BMJ 372(160) 1–36. https://doi.org/10.1136/bmj.n160
Rietveld, A. B. (2013). Dancers' and musicians' injuries. Clinical Rheumatology, 32(4), 425–434. https://doi.org/10.1007/s10067-013-2184-8
Sobhani, S., Dekker, R., Postema, K. & Dijkstra, P. U. (2012). Epidemiology of ankle and foot overuse injuries in sports: A systematic review. Scandinavian Journal of Medicine & Science in Sports, 23(6), 669–686. https://doi.org/10.1111/j.1600-0838.2012.01509.x
Steinberg, N., Adams, R., Tirosh, O., Karin, J., & Waddington, G. (2019). Effects of tex-tured balance board training in adolescent ballet dancers with ankle pathology. Journal of Sport Rehabilitation, 28(6), 584–592. https://doi.org/10.1123/jsr.2018-0052
Vera, A. M., Barrera, B. D., Peterson, L. E., Yetter, T. R., Dong, D., Delgado, D. A., … Harris, J. D. (2020). An injury prevention program for professional ballet: a randomized con-trolled investigation. Orthopaedic Journal of Sports Medicine, 8(7) 1-12. https://doi.org/10.1177/2325967120937643
Vosseller, J. T., Dennis, E. R., & Bronner, S. (2019). Ankle injuries in dancers. The Journal of the American Academy of Orthopaedic Surgeons, 27(16), 582–589. https://doi.org/10.5435/JAAOS-D-18-00596
Vuurberg, G., Hoorntje A., Wink, L. M., van der Doelen, B. F. W., van den Bekerom, M. P., Dekker, R. … Kerkhoffs, G M. M. J. (2018). Diagnosis, treatment and prevention of ankle sprains: update of an evidence-based clinical guideline. British Journal of Sports Medicine, 52(956), 1–15. https://doi.org/10.1136/bjsports-2017-098106
Wolfe, M. W., Uhl, T. L., Mattacola, C. G., & McCluskey, L. C. (2001). Management of ankle sprains. American Family Physician, 63(1), 93–104. Retrieved from https://www.aafp.org/pubs/afp/issues/2001/0101/p93.html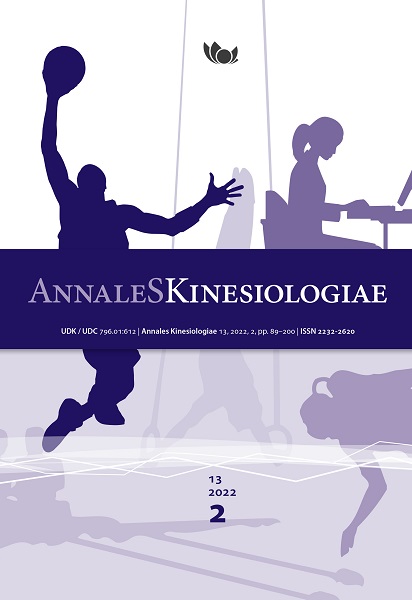 Downloads
How to Cite
Vilar, P. L., Kovačič, T., & Gerževič, M. (2023). Injury prevention and physiotherapy procedures for ankle injuries in ballet dancers: A literature review. Annales Kinesiologiae, 13(2), 93–113. https://doi.org/10.35469/ak.2022.349
License
Copyright (c) 2023 Pia Lina Vilar, doc. dr. Tine Kovačič, doc. dr. Mitja Gerževič
This work is licensed under a Creative Commons Attribution 4.0 International License.
Open Access Policy and Copyright
This journal provides immediate open access to its content on the principle that making research freely available to the public supports a greater global exchange of knowledge. Users are allowed to read, download, copy, distribute, print, search, or link to the full texts of the articles, or use them for any other lawful purpose, without asking prior permission from the publisher or the author.
Authors who publish with this journal agree to the following terms:
Authors retain copyright and grant the journal right of first publication with the work simultaneously licensed under the terms of the Creative Commons Attribution license (CC BY) that allows others to share the work with an acknowledgement of the work's authorship and initial publication in this journal.
Authors grant the publisher commercial rights to produce hardcopy volumes of the journal for sale to libraries and individuals.
Authors are able to enter into separate, additional contractual arrangements for the non-exclusive distribution of the journal's published version of the work (e.g., post it to an institutional repository or publish it in a book), with an acknowledgement of its initial publication in this journal.