Ecofeminist Theology of Interdependence
A Constructive Theological Approach to Contemporary Environmental (in)Justice and Vulnerability
Keywords:
ecofeminism, Christianity, environmental (in)justice, climate change, vulnerability, women
Abstract
This article addresses the issue of social and environmental (in)justice through the lens of Christian ecofeminism and its ethic of interconnectedness and ecological responsibility for all of creation. Because ecofeminism connects the exploitation of women with the exploitation of creation (nature), I use the central research methodology of Christian ecofeminist hermeneutics to formulate a central research question: first, an analysis of Christian ecofeminism's position on social and ecological (in)justice, then an analysis of the positive implications for Christian theology and for the pursuit of social and ecological justice.
Although climate change disproportionately impacts female populations, in particular the reproductive health of poorer women, women are often excluded from environmental decision-making processes. Women around the world are already more affected by polluted air, limited access to clean water, and increased exposure to toxic chemicals, and climate change exacerbates these threats. Sensitivity to the impacts of climate change also provides women with a unique experiential knowledge that they can use to make an important contribution to efforts to increase climate resilience and sustainability, as well as to improve awareness and attitudes toward environmental issues and nature in the world's religions. For ecofeminists, the environmental crisis is a reality, a threat, and a warning to modern humanity. Climate change, global warming, loss of biodiversity and other processes that are supposedly the result of pollution and long-term overuse and exploitation of natural resources are certainly a reflection and consequence of man's global consumer-imperialist attitude towards nature.
References
Berry, Helen, Bowen, Kathryn, in Kjellstrom, Tord. »Climate change and mental health: a causal pathways framework.« International Journal of Public Health 55, št. 2 (2009): 123‒132. https://doi.org/10.1007/s00038-009-0112-0.
Coêlho, Angela E. L., Adair, John G., in Mocellin, Jane S. P. »Psychological responses to drought in Northeastern Brazil.« Interamerican Journal of Psychology 38, št. 1 (2004): 95–103.
Cheatwood, Derral. »The Effects of Weather on Homicide.« Journal of Quantitative Criminology 11, št. 1 (1995): 51‒70. https://doi.org/10.1007/BF02221300.
Enarson, Elaine. »Through women's eyes: a gendered research agenda for disaster social science.« Disasters 22, št. 2 (1998): 157–173. https://doi.org/10.1111/1467-7717.00083.
»Environmental Justice«. United States Enviromnental Protection Agency. Dostop 2. 6. 2019. https://www.epa.gov/environmentaljustice.
Fritze, Jessica G, Blashki, Grant A., Burke, Susie, in Wiseman, John. »Hope, despair and transformation: Climate change and the promotion of mental health and wellbeing.« International Journal of Mental Health Systems 2, št. 13 (2008): 1–10. https://doi.org/10.1186/1752-4458-2-13.
Furlan Štante, Nadja. »Transcendence in Christian (Eco)feminist Hermeneutics.« Bogoslovni vestnik 77, št. 3/4 (2017): 589–99. http://www.teof.uni-lj.si/uploads/File/BV/BV2017/03/Furlan.pdf.
Furlan Štante, Nadja. »Položaj žensk in odnos do narave: ogledalo družbeno-religijske pravičnosti.« Poligrafi 23, št. 89/90 (2018): 9–21.
Grigg, Richard. »Feminist Theology and the Being of God.« Journal for the Study of Religion 7, št.4 (1994): 506–523.
Gebara, Ivone. Longing for Running Water: Ecofeminism and Liberation. Minneapolis: Fortress Press, 1999.
Gilligan, Carol. In a Different Voice: Psychological Theory and Women's Development. Cambridge, Mass.: Harvard University Press, 1982.
Heyward, Carter. The Redemption of God: A Theology of Mutual Relation. Lanham, Maryland: University Press of America, 1982.
McFague, Sally. The body of God: An Ecological Theology. Minneapolis, Fortress Press, 1993.
Radford Ruether, Rosemary. Sexism and God-talk. Boston: Beacon Press, 1983.
Radford Ruether, Rosemary. Gaia and God. New York: HarperOne, 1992.
Radford Ruether, Rosemary. Goddesses and the Divine Feminine. Berkeley, Los Angeles and London: University of California Press, 2005.
Radford Ruether, Rosemary. Integrating Ecofeminism, Globalization, and World Religions. Lanham: Rowman & Littlefield Publishers, 2005.
Schroeder, Richard, St Martin, Kevin, Wilson, Bradley, in Sen, Debarati. »Third World Environmental Justice.« Society & Natural Resources 21, št. 7 (2008): 547–555. https://doi.org/10.1080/08941920802100721.
Strang, Veronica. The Meaning of Water. Oxford: Berg Publishers, 2004.
Stehlik, Daniela, Lawrence, Geoffrey, in Gray, Ian. »Gender and Drought: Experiences of Australian Women in the Drought of the 1990s.« Disasters 24, št. 1 (2000): 38–53. https://doi.org/10.1111/1467-7717.00130.
Straif, Kurt, Cohen, Aaron, in Samet, Jonathan, ur., AP – Air Pollution and Cancer. IARC Scientific Publication št. 161. Lyon; International Agency for Research on Cancer, 2013. https://publications.iarc.fr/Book-And-Report-Series/Iarc-Scientific-Publications/Air-Pollution-And-Cancer-2013.
Warren, Karen J. »Feminism and ecology: Making connections.« Environmental Ethics 9, št. 1 (1987): 3–20. https://doi.org/10.5840/enviroethics19879113.
Warren, Karen J. »Environmental Justice: Some Ecofeminist Worries about a Distributive Model.« Dostop 12. 5. 2019. https://www.bu.edu/wcp/Papers/Gend/GendWarr.htm.
Weiss, Cathy. »Women and Environmental Justice: a literature review.« Women's Health in the North, 2011, 3. Dostop 12. 5. 2019. https://www.semanticscholar.org/paper/Women-and-Environmental-Justice-%3A-a-literature-Weiss/09ef8eee40e4b6f393ef47d0951e838f423717fa.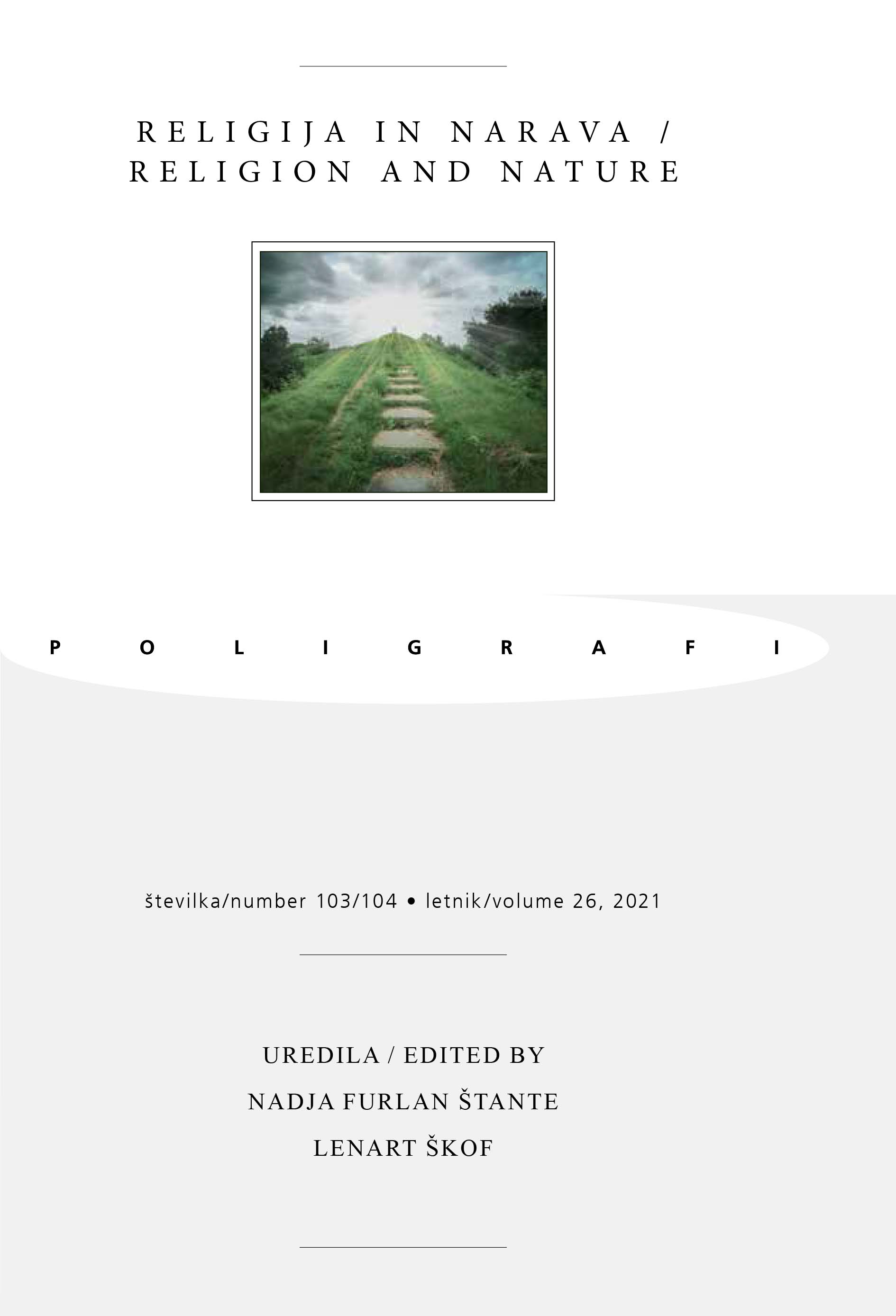 Downloads
How to Cite
Furlan Štante, Nadja. 2021. "Ecofeminist Theology of Interdependence : A Constructive Theological Approach to Contemporary Environmental (in)Justice and Vulnerability". Poligrafi 26 (103/104). https://doi.org/10.35469/poligrafi.2021.299.
Section
Religion and Nature