HEALTHY AGEING AT HOME: ERGONOMICS ADAPTATIONS OF INTERIOR DESIGN AND SELF-ASSESED QUALITY OF LIFE OF OLDER ADULTS OF THE MUNICIPALITY OF LJUBLJANA
Abstract
Population is ageing and many nations already respond by developing and promoting special strategies of healthy ageing. Living environment is one of the factors that can contribute to healthy and safe ageing at home, providing that it is well adapted to the needs of older adults. On the contrary, it can cause stress, discomfort and lead to injuries, resulting in the loss of independence and autonomy. With the use of a questionnaire, conducting a survey and an analysis regarding the adaptability of living environment to the needs of older adults, we obtained an insight into the quality of living environment of the elderly. In the Quality of Life Survey as a part of the A-Qu-A questionnaire, the participants were 198 older adults with an average age of 71.5 ± 5.2 years of age. Further on, 83 of them participated in the study of the "Adaptation of the Living Environment to the Needs of Older People," carried out in the homes of the participants, (with an average of 76 ± 1.2 years of age). The results showed that there is a significant difference between the subjective evaluation of the participants and the evaluation by the professionals regarding the estimation of appropriate lighting. The participants who estimated their quality of life as better are more likely to have sufficient or adequate lighting and more adaptations in the kitchen, which makes daily kitchen work easy and safe. Further investigation dealt with the ergonomic adaptation of the bathrooms, where we found out that less than 15 % of the participants installed the handrails in the shower or bath tub, which can significantly contribute to safety. Additionally, physical capability as part of quality of life negatively correlates with the number of adaptations made in bathroom (r = -0.149; p = 0.039), which refers to the fact that the adaptation of accessories (handrails) were only installed when the need for them appeared. With minor changes in the living environment and taking care for maintaining psycho-physical capabilities, older adults can easily and safely perform everyday tasks, which prolongs an individual's autonomy and independence − the fact we are still not sufficiently aware of.
References
Batič, L. et al. (Eds). (2016). Aktivno in kvalitetno staranje v domačem okolju (A-Qu-A) : Norveški finančni mehanizem 2009-2014 [Active and quality aging in home environment (A-Qu--A) : Norwegian financial mechanism 2009-2014]. Ljubljana: Solos.
Boyo, S. (2001). When a house is not a home. Older people and their housing. London, AGE – Age Concern England.
Carter, S. E., Campbell, E. M., Sanson-Fisher, R. W., & Redman, S. (1997). Environmental
hazards in the homes of older people. Age and Ageing, 26(3), 195-202.
Colombo, M., Vitali, S., Molla, G., Gioia, P., & Milani, M. (1998). The home environment modification program in the care of demented elderly. Gerontology and geriatrics,
(supp. 1), 83-90.
Drewnowski, A., Monsen, E., Brikett, D., Gunther, S., Vendeland, S., Su, J., & Marshall, G. (2003). Health screening and health promotion programs for the elderly. Disease Management & Health Outcomes, 11(5), 299-309.
Fabisiak, B., Klos, R. (2016). Preference of senior users concerning construction and design of bedroom furniture. Annals of Warsaw University of Life Sciences – SGGW, Forestry and Wood Technology, 94, 177-182.
Fabisiak, B., Jankowska, A. (2016). Limitations in the physical activity of the Baltic Sea Region seniors in the context of the Baltic Sea Region seniors in the context of furniture design. Annals of Warsaw University of Life Sciences – SGGW, Forestry and Wood Technology, 94, 183-190.
Gilderbloom, J. I., Markham, J. P. (1996). Housing modification needs of the disabled elderly: what really matters? Environment and Behaviour, 28(4), 512-535.
Grdiša, R., (2010). Priročnik za načrtovanje sodobnih oblik bivanja starih ljudi [Manual for designing the modern living forms for the elderly]. Ljubljana: Fakulteta za arhitekturo.
Hrovatin, J. (2015). Študija prilagojenosti kuhinjskega pohištva potrebam starejših oseb [Study of the adaptation of kitchen furniture to the needs of the elderly]. Koper: Univerzitetna založba Annales, Ljubljana: Fakulteta za dizajn.
Hvalič, Touzery, S. (2009). Prebivalstvo slovenije se stara. [The population of Slovenia is aging]. Kakovostna starost: časopis za socialno gerontologijo in gerontagogiko, 9(2), 54-57.
Klos, R., Fabisiak, B., Kaczmarek, M. (2014). Analysis of human needs in kitchen design for people with visual impairment. Drvna Industrija, 65(1), 43-50.
Pell. N. M., McClure. R. J., Bartlett, H. P. (2005). Behavioural Determinants of healthy ageing. American Journal of Preventive Medicine, 28(3), 298-304.
Podlesnik, B. (2011). Vpliv svetlobe na kakovost bivanja v sodobnem kuhinjskem ambientu (neobjavljena magistrska naloga) [The impact of light on the quality of life in a modern kitchen environment (Unpublished master's thesis)], Ljubljana: University of Ljubljana, Faculty for architecture.
Statistic Office RS. (2012). Retrieved from http://www.stat.si/novica_prikazi.aspx?id=4617.
Stevens, J. A. (2005). Falls among older adults - risk factors and prevention strategies. Journal of Safety Research, 36(4), 409-411.
Tinetti, E. M. (2003). Preventing falls in elderly persons. The New England Journal of Medicine, 348(1), 42-49.
Tomšič, M. & Gunčar, M., (2012). Tveganost za padce v domačem okolju [Riskiness for falls at home environment]. In M. Tomšič (Ed.) Delovna terapija - stroka sedanjosti. Zbornik prispevkov z recenzijo (pp 115-122), Ljubljana: University of Ljubljana: Faculty of Health Sciences.
Torrington, J., Barnes, S., Kevin, M., Kevin, M., Tregenza, P. (2004). The influence of building design on the quality of life of older people. Architectural Science Review, 47(2), 193-197.
World Health Organisation. (2002). World Health Report 2002: Reducing risk to health, promoting healthy life. Retrieved from http://www.who.int/whr/2002/en/.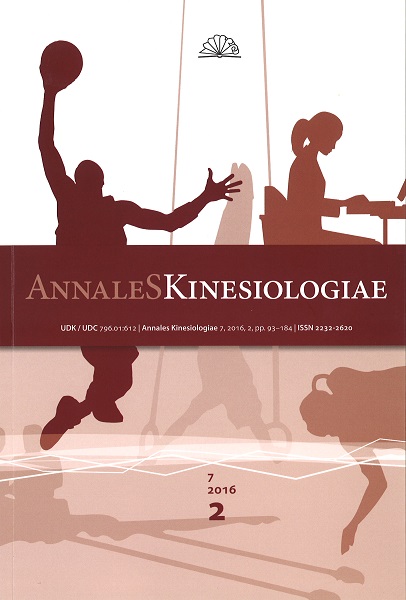 Downloads
Additional Files
How to Cite
Hrovatin, J., Pišot, S., & Plevnik, M. (2017). HEALTHY AGEING AT HOME: ERGONOMICS ADAPTATIONS OF INTERIOR DESIGN AND SELF-ASSESED QUALITY OF LIFE OF OLDER ADULTS OF THE MUNICIPALITY OF LJUBLJANA. Annales Kinesiologiae, 7(2), 139–152. Retrieved from http://ojs.zrs-kp.si/index.php/AK/article/view/129
License
Open Access Policy and Copyright
This journal provides immediate open access to its content on the principle that making research freely available to the public supports a greater global exchange of knowledge. Users are allowed to read, download, copy, distribute, print, search, or link to the full texts of the articles, or use them for any other lawful purpose, without asking prior permission from the publisher or the author.
Authors who publish with this journal agree to the following terms:
Authors retain copyright and grant the journal right of first publication with the work simultaneously licensed under the terms of the Creative Commons Attribution license (CC BY) that allows others to share the work with an acknowledgement of the work's authorship and initial publication in this journal.
Authors grant the publisher commercial rights to produce hardcopy volumes of the journal for sale to libraries and individuals.
Authors are able to enter into separate, additional contractual arrangements for the non-exclusive distribution of the journal's published version of the work (e.g., post it to an institutional repository or publish it in a book), with an acknowledgement of its initial publication in this journal.