FACTORS AFFECTING ACCIDENTS ON SKI HILLS (Slovenian Case)
Abstract
Safety on the licensed ski slopes in Slovenia, like in many other winter countries, is a complex notion involving, in addition to ski slope owners and operators, several governmental agencies and functionaries, such as inspectors, supervisors, police, medical staff, and others. We cannot assign blame for accidents to them. Our research, in agreement with the Inspectorate of the Republic of Slovenia responsible for Internal Affairs and the Police Academy, focuses on the causes for skiing accidents. We found out that a skier plays an important role in safe-guarding his/her own safety as well as that of fellow skiers on the ski slope. Obligations of the skier using a licensed ski slope are described in 10 internationally endorsed FIS rules of skiing. We obtained data on ski accidents for three consecutive ski seasons between December 2012 and April 2015. We studied whether or not the skiers followed FIS regulations and whether or not they adequately safeguarded their own safety. We also studied who is most often responsible for ski accidents.
References
Alexander, M. H., & Raub, J. (2003). How to protect your "coconut": A safety demonstration on the importance of wearing a ski helmet. Journal of Emergency Nursing, 29(5), 461–462.
Burton, R. R., Brown, J. S., & Fischer, G. (1984). Skiing as a model of instruction. Everyday cognition: Its development in social context, 139–150.
Burtscher, M., Gatterer, H., Flatz, M., Sommersacher, R., Woldrich, T., Ruedl, G., et al. (2008). Effects of modern ski equipment on the overall injury rate and the pattern of injury location in Alpine skiing. Clinical Journal of Sport Medicine: Official Journal of the Canadian Academy of Sport Medicine, 18(4), 355–357.
Caine, D. J., & Maffulli, N. (2005). Epidemiology of pediatric sports injuries (Vol. 48). Basel: Karger Medical and Scientific Publishers.
Deutscher Skiverband. (2016). Retrieved June 9th from http://www.deutscherskiverband.de/
Dingerkus, M. L., & Mang, A. (2002). WINTERSPORT: Verletzungen und Überlastungen beim Carving. Sports Orthopaedics and Traumatology, 17(4), 213–218.
Goulet, C., Régnier, G., Grimard, G., Valois, P., & Villeneuve, P. (1999). Risk Factors Associated With Alpine Skiing Injuries In Children A Case-Control Study. The American Journal of Sports Medicine, 27(5), 644–650.
Grom, R. (2009). Smučarski izpiti? Revija Šport Mladih. 16(144), 26-27.
Guček, A., Terčelj, A., Kordež, M., Giacomelli, O., Muhič, D., Makuc, V., Bokal, L. (2011). Slovenski smučarski slovar [Slovene dictionary of skiing terms]. (L. Bokal, Ed.). Ljubljana: Založba ZRC, ZRC SAZU.
Haegeli, P., Gunn, M., & Haider, W. (2012). Identifying a High-Risk Cohort in a Complex and Dynamic Risk Environment: Out-of-bounds Skiing—An Example from Avalanche Safety. Prevention Science, 13(6), 562–573.
Hildebrandt, C., Mildner, E., Hotter, B., Kirschner, W., Höbenreich, C., & Raschner, C. (2011). Accident prevention on ski slopes – Perceptions of safety and knowledge of existing rules. Accident Analysis & Prevention, 43(4), 1421–1426.
Hörterer, H. (2004). TRENDSPORTARTEN: Carving-Skifahren. Sports Orthopaedics and Traumatology Sport-Orthopädie - Sport-Traumatologie, 20(4), 221–226.
Hu, G., Baker, T. D., & Baker, S. P. (2009). Skiing Injuries in Perspective. Wilderness & Environmental Medicine, 20(1), 96–97.
Jahn, G. (2005). Glacial Cover-Up Won't Stop Global Warming, But It Keeps Skiers Happy. Environmental News Network. Retrieved July 15th from http://www.enn.com/top_stories/article/2060
Joubert, G. (1978). Skiing: An art, a technique (1st U.S. edition). Laporte: Poudre Canyon Press.
Kipp, R. W. (2012). Alpine Skiing. Champaign: Human Kinetics.
Köhne, G., Kusche, H., Schaller, C., & Gutsfeld, P. (2007). Skiunfälle – Veränderungen seit Einführung des Carvingski. Sport-Orthopädie - Sport-Traumatologie - Sports Orthopaedics and Traumatology, 23(1), 63–67.
McBeth, P. B., Ball, C. G., Mulloy, R. H., & Kirkpatrick, A. W. (2009). Alpine ski and snowboarding traumatic injuries: incidence, injury patterns, and risk factors for 10 years. American Journal of Surgery, 197(5), 560-563-564.
Mechelen, W. van, Hlobil, H., & Kemper, H. C. G. (2012). Incidence, Severity, Aetiology and Prevention of Sports Injuries. Sports Medicine, 14(2), 82–99.
Onik, G., Szopa, A., Domagalska-Szopa, M., Knapik, K., & Sieroń-Stołtny, K. (2014). Skiing and snowboarding sport injuries. Polish Annals of Medicine, 21(1), 36–39.
Ruedl, G., Brunner, F., Kopp, M., & Burtscher, M. (2011). Impact of a ski helmet mandatory on helmet use on Austrian ski slopes. The Journal of Trauma, 71(4), 1085–1087.
Ruedl, G., Kopp, M., & Burtscher, M. (2011). The protective effects of helmets in skiers and snowboarders. BMJ, 342, d857.
Sabeti, M. (2013). Die vordere Kreuzbandruptur im alpinen Skilauf. Sport-Orthopädie - Sport-Traumatologie - Sports Orthopaedics and Traumatology, 29(4), 297–303.
Scott, D., & Steiger, R. (2013). 4.24 - Vulnerability of the Ski Industry. In R. Pielke (Ed.), Climate Vulnerability (Vol. 4, pp. 305–313). Oxford: Academic Press.
Simpson, M. C., Gössling, S., Scott, D., Hall, C. M., Gladin, E. (2008). Climate Change Adaptation and Mitigation in the Tourism Sector: Frameworks, Tools and Practices. Paris: UNEP, University of Oxford, UNWTO, WMO.
Tuli, T., Haechl, O., Berger, N., Laimer, K., Jank, S., Kloss, F. et al. (2010). Facial Trauma: How Dangerous Are Skiing and Snowboarding? Journal of Oral and Maxillofacial Surgery, 68(2), 293–299.
Whelan, K. M., Gass, E. M., & Moran, C. C. (1999). Warm-up: Efficacy of a program designed for downhill skiing. Australian Journal of Physiotherapy, 45(4), 279–288.
Williams, R. (2016). Ski Helmets and the Backcountry. Wilderness & Environmental Medicine, 27(1), 182–183.
Williams, R., Delaney, T., Nelson, E., Gratton, J., Laurent, J., & Heath, B. (2007). Speeds Associated With Skiing and Snowboarding. Wilderness & Environmental Medicine, 18(2), 102–105.
Zakon o varnosti na smučiščih [Ski Safety Act] (ZVSmuč). (2016). Uradni list Republike Slovenije, (44/16) [Official Gazette of RS, no. 44/16], 21. Retrieved December 9th from http://www.uradni-list.si/1/objava.jsp?sop=2016-01-1922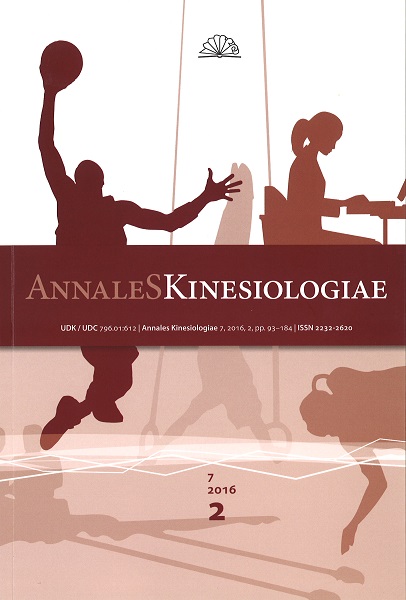 Downloads
Additional Files
How to Cite
Mekinc, J., Grom, L., Omejec, T., & Planinc, S. (2017). FACTORS AFFECTING ACCIDENTS ON SKI HILLS (Slovenian Case). Annales Kinesiologiae, 7(2), 97–116. Retrieved from http://ojs.zrs-kp.si/index.php/AK/article/view/120
License
Open Access Policy and Copyright
This journal provides immediate open access to its content on the principle that making research freely available to the public supports a greater global exchange of knowledge. Users are allowed to read, download, copy, distribute, print, search, or link to the full texts of the articles, or use them for any other lawful purpose, without asking prior permission from the publisher or the author.
Authors who publish with this journal agree to the following terms:
Authors retain copyright and grant the journal right of first publication with the work simultaneously licensed under the terms of the Creative Commons Attribution license (CC BY) that allows others to share the work with an acknowledgement of the work's authorship and initial publication in this journal.
Authors grant the publisher commercial rights to produce hardcopy volumes of the journal for sale to libraries and individuals.
Authors are able to enter into separate, additional contractual arrangements for the non-exclusive distribution of the journal's published version of the work (e.g., post it to an institutional repository or publish it in a book), with an acknowledgement of its initial publication in this journal.