RECOMMENDATIONS FOR ACHIEVING MEDIUM- AND HIGH-INTENSITY PHYSICAL / SPORT ACTIVITY IN PHYSICAL EDUCATION TO IMPROVE THE HEALTH AND LEARNING OF CHILDREN AND ADOLESCENTS
Abstract
The world faces an epidemic of general physical inactivity, impeding the achievement of a sufficient level of medium- and high-intensity physical / sport activities (P / SA). Never in human history were people less physically active than they are now, both at work and in their free time. The most problematic seem to be children and adolescents whose level of P / SA decreases and is not sufficient for maintaining health. School plays an important role in ensuring sufficient and quality P / SA. Physical education is a key period during school when students can be physically active. Consequently, policy makers and moderators of strategies in the field of movement, health and sport should strive to develop the appropriate curriculum and strategies for increasing the volume, intensity and quality of P / SA during physical education. Teachers should pay particular attention, with didactic and methodical approaches, to the achievement of medium- and high-intensity of children's P / SA.
References
Caspersen, C. J., Powell, K. E., & Christenson, G. M. (1985). Physical activity, exercise, and physical fitness. Public Health Report, 100(2), 126–131.
Failing Fitness: Physical Activity and Physical Education in Schools. Policy Brief (2007). Retrieved 6.6.2015, from http://www.californiateenhealth.org/health-topics/nutrition-and-physical-activity/recent-research-nutrition-physical-activity/failing-fitness-physical-activity-and-physical-education-in-schools.
Grey-Thompson, T., Huppert, J., Keeley, B., & Leslie, C. (2014). Tackling physical inactivity - A coordinated approach. Retrieved 5.6.2015, from https://parliamentarycommissiononphysicalactivity.files.wordpress.com/2014/04/apcopa-final.pdf.
Healthy People (2010). Chapter 22 Physical Activity and Fitness, Centers for Disease Control and Prevention and President's Council on Fitness. Retrieved 5.6.2015, from http://www.healthypeople.gov/2010/Document/pdf/Volume2/22Physical.pdf.
Hosta, M. (2004). Zdravje med gibalno nujnostjo in športno izbiro. In R. Pišot, V. Štemberger, J. Zurc, & A. Obid (Eds.) Otrok v gibanju: zbornik prispevkov 3. mednarodnega znanstvenega posveta, (pp. 88–89). Koper: Univerza na Primorskem, Znanstveno-raziskovalno središče.
Partnership for Prevention (2008). School-Based Physical Education: Working with Schools to Increase Physical Activity Among Children and Adolescents in Physical Education Classes - An Action Guide. Washington, DC: Partnership for Prevention. Retrieved 6.6.2015, from https://www.prevent.org/downloadStart.aspx?id=34.
Physical Education Matters (2010). Retrieved 12.5.2015 from http://www.cityprojectca.org/blog/wp-content/uploads/2008/02/pe-matters-long-versionfinal.pdf.
Pišot, R. (2004). Vloga in pomen gibalne/športne dejavnosti v šolskem obdobju. Zdrava šola, 1, 24–27.
Pušnik, T., Volmut, T., & Šimunič, B. (2014). The quantity and intensity of physical activity during physical education in 3rd grade primary school children. Annales kinesiologiae, 5(2), 196-201.
Resolucija o Nacionalnem programu športa v Republiki Sloveniji za obdobje 2014 – 2023 [Resolution on the National Programme of Sport of the Republic of Slovenia 2014-2023] (ReNPŠ14-23). (2014). Ljubljana: Ministrstvo za izobraževanje, znanost in šport. Retrieved 6.6.2015, from http://www.pisrs.si/Pis.web/pregledPredpisa?id=RESO99
Sallis, J. F., Buono, M. J., Roby, J. J., Micale, F. G., & Nelson, J. A. (1993). Seven-day recall and other physical activity self-reports in children and adolescents. Medicine and Science in Sports and Exercise, 25(1), 99–108.
Slingerland, M., Haerens, L., Cardon G., & Borghouts, L. (2013). Differences in perceived competence and physical activity levels during single-gender modified basketball game play in middle school physical education. European Physical Education Review, 20(1), 20-35.
WHO (2011). Global recommendations on physical activity for health. Retrieved 8.6.2015, from http://www.who.int/dietphysicalactivity/leaflet-physical-activity-recommendations.pdf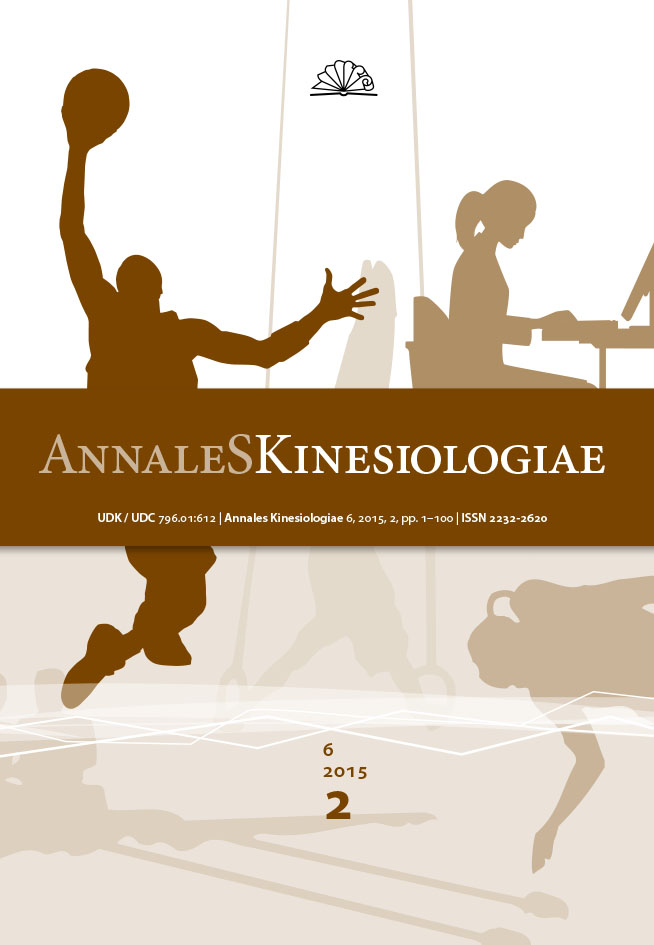 Downloads
How to Cite
Šimunič, B., Volmut, T., Pišot, S., Plevnik, M., Čeklić, U., Pegan, N., Dolenc, P., Retar, I., & Koren, K. (2016). RECOMMENDATIONS FOR ACHIEVING MEDIUM- AND HIGH-INTENSITY PHYSICAL / SPORT ACTIVITY IN PHYSICAL EDUCATION TO IMPROVE THE HEALTH AND LEARNING OF CHILDREN AND ADOLESCENTS. Annales Kinesiologiae, 6(2), 137–148. Retrieved from http://ojs.zrs-kp.si/index.php/AK/article/view/107
License
Open Access Policy and Copyright
This journal provides immediate open access to its content on the principle that making research freely available to the public supports a greater global exchange of knowledge. Users are allowed to read, download, copy, distribute, print, search, or link to the full texts of the articles, or use them for any other lawful purpose, without asking prior permission from the publisher or the author.
Authors who publish with this journal agree to the following terms:
Authors retain copyright and grant the journal right of first publication with the work simultaneously licensed under the terms of the Creative Commons Attribution license (CC BY) that allows others to share the work with an acknowledgement of the work's authorship and initial publication in this journal.
Authors grant the publisher commercial rights to produce hardcopy volumes of the journal for sale to libraries and individuals.
Authors are able to enter into separate, additional contractual arrangements for the non-exclusive distribution of the journal's published version of the work (e.g., post it to an institutional repository or publish it in a book), with an acknowledgement of its initial publication in this journal.